Wellbeing Update
Little Feet Big Footprints
Uniform Shop
NCCD Update
Sensical TV
Finally. A safe kids video haven is here and it's free!
Common Sense  Media is the leading source of entertainment and technology recommendations for families when it comes to reviews and objective advice for all digital media, including tv shows, apps and games.
Sensical.tv by Common Sense Media allows children to safely explore thousands of videos across tons of safe, age-appropriate channels built around the topics kids love. Sensical TV has a huge array of educational topics and, for those kids who love 'youtuber' style content, you'll find videos that include tutorials for arts, sports tricks, games, hobbies and robotics!
What can kids watch on Sensical TV?
Whilst you won't find popular brands on Sensical TV, such as Disney or Nickelodeon child-friendly content, you will find some awesome children's branded content such as:
Minecraft
Thomas and Friends
Sesame Street Studios
The Wiggles
Kidz Bop
Mother Goose Club
Babar
Barbie Vlogs
Hot Wheels
Story Surprise
Safety by Design
Sensical TV has Member Status with KidSafeCOPPA which means that the product has been independently reviewed, certified, and/or listed by kidSAFE to meet certain standards of online safety and/or privacy.
The ParentZone dashboard allows guardians to create safe profiles for multiple children in your home. It allows you to review the content your children have watched and has parental controls to set time limits that help you kids follow your family's Digital Use Agreement. A PIN will be set so your children cannot change their own settings.
How does Sensical TV collect, store and use our family's information?
Sensical TV is still an online tool so supervision is always important. When signing up for your parent account it will collect your child's first name only (we still recommend using a nickname to model safe online profile names).
We also noticed a clever, safe way Sensical TV tracks your child's age range. When you set up your child's profile, the program will ask for your child's age and birth month, but they do not request a birthdate. We love that they have found a way to provide ongoing age-appropriate content for each user without asking you to share your child's personal details!
Whilst as parents/carers you can enjoy the peace of mind that the platform is safe, it's important to note that advertisements do still appear on Sensical TV. Ads are an expected online experience, so this is a great way to start the conversation about advertising with your children. Common Sense Media have a great educational resource with 4 Tips for Making Kids Ad Savvy!
Sensical.tv is currently launched for web view on desktop computers and laptops for Australian families.
.
Assemblies
Assemblies are back and are open for all to attend. They will be held on a Friday afternoon beginning at 2.45 pm.
May 20th Year Six
May 27th Year Five
June 3rd Year Four
June 10th Year Three
June 17th Year Two
Parents and Friends Meeting
We will be having another meeting of like-minded parents on Thursday, May 12th at 3.45 to plan what 2022 might look like going forward. We have already decided to be a less formal group changing from a small number of parents doing all the work, to opening up for all to volunteer to help out on one or two events across the year.
NAPLAN
NAPLAN assesses the literacy and numeracy skills that students are learning through the school curriculum and allows parents/carers to see how their child is progressing against national standards and overtime. NAPLAN, for our school, starts on Tuesday 10th May and finishes on Friday 20th May.
Winter Uniform
It is expected that all children will be wearing winter uniforms by 9th May which is the first day of Week 3.
ANZAC DAY
Monday, April 25th was ANZAC Day, an important day on our nation's calendar. Whilst it is a day to recognise all servicemen and women and remember the sacrifice that so many of them made for their country, it is also a day of great national pride and a time to be grateful that we live in this wonderful country of ours. Thanks to Milla and Alexa for reading the poem and Cohan and Jack for laying the wreath.
A Prayer for ANZAC Day
God of love and liberty, we bring our thanks this day for the peace and security we enjoy, which was won for us through the courage and devotion of those who gave their lives in a time of war.
We pray that their labour and sacrifice may not be in vain, but that their spirit may live on in us and in generations to come.
That the liberty, truth and justice which they sought to preserve may be seen and known in all the nations upon earth.
This we pray in the name of the one who gave his life for the sake of the world, Jesus Christ our Lord.
Amen.
Happy Mother's Day
Wishing all our mums, grandmothers and special friends a very happy day on Sunday 8th May. We pray for our mums, grandmothers and motherly figures who are no longer with us or unable to be with us.
A Mother's Love
There are times when only a mother's love
Can understand our tears,
Can soothe our disappoints
And calm all of our fears.
There are times when only a mother's love
Can share the joy we feel
When something we've dreamed about
Quite suddenly is real.
There are times when only a mother's faith
Can help us on life's way
And inspire in us the confidence
We need from day to day.
For a mother's heart and a mother's faith
And a mother's steadfast love
Were fashioned by the angels
And sent from God above.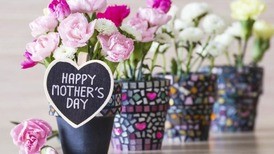 COVID Update
The Victorian Government has announced some important changes to COVIDSafe measures for schools that will apply from the start of Term 2.
Face masks
From 11:59 pm Friday 22 April, face masks, while recommended, are not required in any school setting. This means students in grades 3 to 6, staff and visitors in primary schools are no longer required to wear face masks. Any student or staff member who wishes to wear a mask may do so, including those who are medically at risk.
Screening requirements
Students who have tested positive for COVID-19, and have completed their 7-day isolation period, now do not need to undertake rapid antigen test (RAT) screening for 12 weeks after their release from isolation. This was previously 8 weeks.
Household contacts
Students who are household contacts of a COVID-19 case are not required to quarantine. They may return to school as long as they undertake rapid antigen tests (RAT) 5 times during their 7-day period. They are required to notify the school that they are a household contact.
Students aged 8 years and above who are household contacts are required to wear face masks when indoors at school unless they have a valid exemption.
If a student household contact returns a positive RAT result, they must isolate for 7 days.
Vaccination requirements for visitors to schools
Parents, carers and other adult visitors (not performing work) are no longer required to show evidence of two doses of COVID-19 vaccine.
RAT screening program reminder
The testing recommendations will remain the same this Term for students and staff with to test at home twice a week. RATs were sent home on Wednesday. Should you have not received yours please contact our office.
Notification of Positive Cases at School
Parents and carers will continue to be notified of positive cases in their child/children's classroom via the Seesaw app.
Wellbeing
Year 6 Editorial
As the term has progressed, the school has attended some exciting events such as the Year Six Leadership assembly, Goldfields Cross Country and the Indigenous Food and Fibre Festival.
Recently we had our very first school assembly since Covid hit. It was a special Leadership assembly that only Year Six parents could attend. All the Year Six students received their leadership badges from the principal and they also told a little bit about their leadership role. In this assembly the Year Sixes introduced their Foundation buddies to the school.
Five Year Six students went to the Indigenous Food and Fibre Festival. Those handful of students were lucky enough to be able to learn about Indigenous food and culture. It was an enjoyable and educational experience, being able to try Indigenous food and be able to attend a smoking ceremony. We would love to do it again.
Year Six Editorial Leaders
Cyber Safety
Orienteering
Curriculum News
NAPLAN: Tuesday 3rd May – Friday 6th May 2022
In May every year, students in Years 3, 5, 7 and 9 take part in the National Assessment Program – Literacy and Numeracy (NAPLAN).
This year we will administer the NAPLAN tests through the Online National Assessment Platform.
The year three Writing test is the only test that will continue as a pen and paper assessment this year. More information regarding NAPLAN Online will be communicated via the newsletter in the coming weeks.
If you have any questions regarding this, please do not hesitate to contact myself (Mrs Morris) or your child's classroom teacher.
PE / Sports News:
This week we are heading to Clunes on Friday for the Goldfields Cross Country. We are taking a field of 22 students. We wish them all the very best of luck for this coming race.
We would like to take this opportunity to congratulate Zahra Winduss from Grade 6 who has been selected for the U14 Regional Academy Program for Basketball. Well done, Zahra!
We have had a number of students participating in some wonderful events out of school and we would like to share that with you.
Will Grant and Max Clohesy Won the Mt Prospect Tennis Grand Final on Saturday with their team.
They Played Roy Martin and his team who came runners up. It was a nail-biting match and both teams played amazingly! Great little sportsmen.
Jack Clohesy won the Mt Prospect Tennis 10 & U singles and doubles club champion. There were a number of students from St Augustine's who participated in this championship.
Isla Keating was runner up in the Mount Prospect Junior Tennis Association club championship in girls 11 and under singles and doubles.
Lenny Harris from foundation is competing this weekend at Lilydale for the VIC series Rd3 BMX competition. Riders come from all over the state to compete. Lenny competed at Bendigo last month for Rd 1&2. All the very best of luck Lenny for this weekend!
Also, good luck to all of our students who are preforming at CresFest this coming weekend.
Mrs Morris
Principal's News
End of Term One Information
A reminder that we finish the term at 1:45 on Friday, April 8th, and we commence back on Tuesday, April 26th, as Monday the 25th is ANZAC Day.
Students will wear the Winter uniform on the first day of Term Two. If the weather is still warm, we will be flexible and allow the students to wear their summer uniform for the first two weeks of the term.
If your child (ren) is unable to wear the full school uniform at any time, please send a note of explanation to the relevant teacher. Thank you for your ongoing support in this.
As we prepare for a well earned rest over the Easter break, I would like to thank all for their efforts over the term. It has been a very settled and productive ten weeks, with a particular note on how well our 24 foundation students have settled into their class routines.
We are very fortunate to have a supportive community here at St. Augustine's.
I sincerely thank all of our staff for their hard work, determination and commitment to caring for and educating the children at St Augustine's. Whatever their role in our school, their contribution as an educator and role model is most important in providing the opportunities for the children to develop into the best person they can be.
Working with Children's Check
Are you thinking about helping out at school this year?
You must apply for a WWC Check before starting child-related work and passing the Check to continue this work. You are doing child-related work if:
your work is paid or voluntary
your work is connected to one or more of the occupational fields listed in the Act
your work involves regular direct contact with children
this work is not directly supervised by another person.
Some exemptions apply.
To assess your suitability to work with children, the Check examines your national criminal history and, where appropriate, professional disciplinary findings for relevant offences.
If you pass the Check, you will receive a WWC Check card enabling you to participate in child-related work for five years. During this time, your criminal and professional records will continue to be monitored.
If the Department of Justice believes that you should not pass the Check, you will have an opportunity to make a submission explaining why you think you should pass the Check. If you do not pass the Check after your submission has been considered, you may appeal the department's decision through the Victorian Civil and Administrative Tribunal (VCAT).
To apply, go to this website, http://www.workingwithchildren.vic.gov.au/
If you are a volunteer, there is no cost involved. Some parents have been contacted about their expired WWC. If this affects you, please get in touch with Karen in the office ASAP.
Enrolments for 2023
If you have a pre-schooler turning five before April 30th 2023, please get your "application for enrolment" form filled in and delivered to the school office as soon as possible. This will help us with planning staffing and class groups for next year. If you know of families in the area thinking of enrolling at St Augustine's, please encourage them to contact us to formalise enrolment procedures.
Pokemon Cards at School
As these could be classed as toys, we ask that your children do what they do with all toys and leave them at home. These cards can be worth a lot of money, and therefore when traded or lost, this can cause a lot of angst for your child, not to mention the stress for all as our teachers sort out a not so happy trade or a search for a lost card.
COVID-19 Update
Mask Wearing
Mask wearing supports the capacity of the school to provide continuous learning. All staff, visitors, and contractors must wear a mask whilst indoors.
Students in Years 3-6 must wear a mask when indoors except when engaged in activities that require clear communication and/or vigorous exercise.
Students will need to provide masks as a limited number are available.
Visiting School Premises
We understand that parents will need to attend school; however, it is essential that you wear a mask at this time to minimise the potential for transmission.
Symptom Management
All students, staff, and visitors must not attend the school site if they are unwell, have symptoms of COVID-19 or have been directed to isolate themselves by Public Health.
We ask that your child does not attend school if they display cold or flu-like symptoms; stay home and phone your GP.
If a student displays cold or flu-like symptoms at school, parents will be contacted, and your child will need to be collected and returned home.
Rapid Antigen Testing
Rapid antigen testing is a crucial component of Public Health's approach to self-diagnosis of infection and close contact management.
RAT's will continue to be provided for staff and students.
Reporting a Confirmed Case or Close Contact
If your child tests positive for COVID, please notify us immediately and call the Coronavirus Hotline at 1800 675 398.
If there is a positive COVID Case in your child's class, we will send you a notification on Seesaw reminding you that classes will continue but monitor for symptoms. If your child tests POSITIVE to COVID, please notify us immediately. This allows us to inform others. If your child is home due to being COVID Positive or as a CLOSE CONTACT, please let us know, and if you would like work for your child, we will share some packages we have put together.
Victoria COVID-19 testing and isolation guidelines
Testing advice

Isolation period
I have COVID-19 symptoms
RAT test. PCR only if you are unable to access a RAT or have been instructed
Isolate for seven days and test daily if symptoms persist
I have been diagnosed with COVID-19
Diagnosis can come from either positive PCR or RAT
Isolate for seven days. Can leave isolation after seven days if symptoms dissipate
For example, if you had the test on a Monday, you would leave isolation any time the following Monday.
I'm a household contact – no symptoms
Advised to take RATs and monitor for symptoms throughout the isolation period.
If you have recovered from COVID-19, you aren't required to test, quarantine or isolate if you are exposed to a case within eight weeks of ending your isolation period
Isolate for seven days
If you have recovered from COVID-19, you aren't required to test, quarantine or isolate if you are exposed to a case within eight weeks of ending your isolation period
I'm a household contact – have symptoms
RAT test. PCR only if you can not access a RAT
Isolate for seven days
Other or casual contact – social, workplace etc.
Monitor for symptoms, RAT advised
Resurrection is transformation
Why are eggs associated with Easter? Why are they such a powerful symbol of resurrection? The word needs some care. It is not resuscitation, as if Jesus were brought back to life, like Lazarus or the widow's son at Nam (see John 9 and Luke 7:11-15). Resurrection is transformation. The symbols of resurrection are many. So then, why eggs and Easter? An egg is changed. What is yellow and white liquid becomes alive with feathers and a chirp. If you look at the liquid of eggs alone, you would never tell what they would become. A liquid goo becomes a chicken – a seagull, crow or magpie. Another Easter symbol is the seed or acorn. You can look at a seed and never imagine what colour it may turn out to have, similarly to a caterpillar and butterfly. These are resurrection symbols because they become something else, totally unforeseen and beautiful. And yet there is continuity: the egg becomes a chicken; an acorn becomes an oak tree; a caterpillar becomes a butterfly.
(Source unknown)
School Holiday Program
EASTER SCHOOL HOLIDAY PROGRAM

Monday 11th of April to Friday the 22nd of April 2022
Fully supervised, covid-safe, fun-filled days of sports & activities that kids love!

(excluding weekends and public holidays)
Eastwood Leisure Centre, Ballarat
8am to 5pm each day
Kinder to Grade 6
$50 per day ($45 per day for 5+ days)
Enrol online www.kellysports.com.au/greater-ballarat or Contact Paul on 0423 335 616