Term 1, Week 4: Thursday 18th February, 2021
Ash Wednesday - Lent begins
Lent is a religious observance in the liturgical calendar of many Christian denominations that begins on Ash Wednesday and covers approximately six weeks before Easter Sunday. Lent's traditional purpose is preparation through prayer, penance, repentance of sins, almsgiving, and atonement. Christians observe this event in the Anglican, Calvinist, Lutheran, Methodist, and Roman Catholic traditions. There are traditionally forty days in Lent, often marked by fasting, both from foods and festivities and by other acts of penance. The three traditional practices to be taken up during Lent are prayer (justice towards God), fasting (justice towards self), and almsgiving (justice towards neighbour). In more modern times, the act of 'giving up' something considered to be a vice (chocolate and lollies popular choices) was deemed to bring those of faith closer to God. In the last decade, primary schools' experience has been more on positive actions, using Lent to sharpen our focus on self-improvement. As the concept of a New Year's Resolution, it is an opportune time to stop, reflect, and look at how we are travelling as people. Lent could be a great time to look for opportunities to find happiness in the lives of those around us.
In this time of fragility...
...let us humbly acknowledge our human situation.
Here we are again... already in Lent! At the beginning of last year's Lent, we were beginning to feel the terrible effects of the coronavirus in the world. One year later, we are still in the midst of a health crisis.
The Covid-19 reveals more clearly than ever before the human fragility. It opens our eyes and forces us to acknowledge our situation humbly, and as we have seen across the Covid-19 pandemic, individuals and communities have stepped up. I think we are becoming much more aware of the fragility of those around us. That is the annual call of Ash Wednesday, but this year we hear it even better!
Pope Francis said that "in these times of trouble, when everything seems fragile and uncertain," to speak about hope might seem challenging. Yet, he argued, Lent is a season of hope, for "we turn back to God who patiently continues to care for his creation which we have often mistreated."
Goal Setting
This week, teachers met with parents from Foundation - Year 6. The focus of these conversations was to listen to you talk about your child, as you know them well, whereas teachers have only had the past three weeks with students. The information taken from these discussions, informs teachers in developing a greater understanding of the many strengths they have and any areas of concern.
The information provided by you to reflect on the positives and not so positives, assists to shape goals for every child.
Thank you families for your attendance and valuable input at the recent Parent/Teacher Meetings. These welcoming sessions are always well-received by our staff and families, setting the students up for success.
Safer Internet Day
The internet can be a great place to bring people together to learn and share. Over the past year, we have all increased our usage of this tool to connect and collaborate. But we need to make sure that it is as safe as possible for our children.
The eSafety Commissioner has some fantastic resources for parents and carers including advice on managing time online, online gaming and cyberbullying. Remember, it is never too early to "start the chat".
Visit https://www.esafety.gov.au/parents for more information.
School Advisory Council - Expressions of Interest
The Council are now calling for Member nominations to fill current vacancies. We encourage all parents to consider nominating for one of these crucial posts.
St Augustine's School Council
Council Membership Nomination Request
Dear Parents,
Your School Advisory Council (SAC) regularly meets to discuss ways to improve the school and work on school strategies and projects.
The SAC are now calling for Council Member nominations to fill current vacancies. We encourage all parents to consider nominating for one of these important posts. Please note Council Membership is purely voluntary, advisory in nature and is for a two (2) year term.
ROLE OF THE COUNCIL: The Council exists to provide a representative structure and actively contributes to the growth and development of the school via:
The identification of improvement initiatives
Discussion and debate around initiatives, including but not limited to school policy, strategy, planning and action
Act as a sounding board to the Principal and his team
MEETINGS: Approximately five meetings per year with additional meetings as required.
2021 PRIORITIES FOR THE BOARD
Ongoing building refinements
Sustainability initiatives
Maintenance and works Landscaping
Corporate/grant fundraising
Branding & marketing
Please send an email to Terry Brennan (Principal) on principal@sacreswick.catholic.edu.au stating your wish to nominate for a seat on the School Advisory Council and a brief outline of your background, areas of interest and why you would like to join the Council.
APPLICATION CLOSING DATE: Friday 5th March
The Council provides an excellent opportunity for you to contribute to the children's educational outcomes. It offers a forum enabling you to have your say on the direction of your school. We strongly encourage you to consider this opportunity to make a difference.
Student Representative Council
We congratulate our 2021 SRC members!!
SRC Leader: Dakotah Baker
Yr 5 Rep: Jack Howie
Yr 4 Rep: Maple Budin (absent)
Yr 3 Rep: Matilda Trounce
Swimming Program
The school swimming program will run for 5 weeks for students in Years 1 - 6, commencing on Wednesday 24th February and ending on Wednesday 24th March. Foundation students will attend the Swimming Program for the last 3 weeks commencing on Wednesday 10th March, with their last day also on Wednesday 24th March. Students will leave school at 11:45 am (after the first break) and return at approximately 2:45 pm. Please do not forget to pack sandals or thongs for each child, as students will change out of their school shoes before boarding the bus. Permission forms are now available via PAM, please complete the new activity added for the Swimming Program - students are unable to attend if consent has not been granted by parents. The cost of the 2021 swimming program is $65.50 for students in Years 1-6 and $40.00 for Foundation students. Further details including session times are included on the permission form. Please contact teachers should you have any concerns regarding your child and the swimming program.
Making a shortcut on your iPhone for PAM
Please follow the instructions below to create a shortcut to access the PAM module, enabling a more efficient access to PAM. Parents will be able to view and update: Medical Information, Attendance, Excursion Activities (grant permission), School Reports (electronically at the end of each semester).
Step 1: At the home screen on your iPhone type https://pam.sacreswick.catholic.edu.au/Login into your browser. Enter your username and password. Log in. Click on the square/arrow box (circled below).
Step 2: Click "Add to Home Screen" (circled). You may need to scroll across the bottom to find this.
Step 3: Name the shortcut (PAM St Aug's) Done! It should now be on your home screen.
Centacare Counselling!
We welcome back Sharalle Raven who will work with our students throughout 2021. This service is free and available to St Augustine's students and parents and is made possible through a federal grant. The focus of the support is in providing counselling for children and families during school hours. Should you wish to access this service, please with Mandy who can put you in touch with Sharalle.
Uniform Shop Reminders
The Uniform Shop is open every Monday at the end of the school day (approx 3 pm) and every Friday morning from 8:50 am during school terms. If you have any items at home which you wish to sell, please drop them into into the Uniform Shop.
All items of uniform submitted to the Uniform shop should be clean, in good condition and must have attached a completed sales slip for each item. These slips are available in the office foyer.
A reminder the Uniform Shop is a voluntary run service. All proceeds from sales of uniform are either passed directly onto the families as the seller of items or to the P&F where uniform items have been donated. The uniform shop does not make any money from the sales, so no float is kept to provide change to those purchasing items. Thank you for your understanding in this matter.
If you have any queries please email me: bellul85@yahoo.com - including details of what you are looking for (including size, etc.) and I will respond to you as soon as I can.
I hope that by having the uniform shop open twice weekly, with both morning and afternoon options available, assist those who have work and other commitments to have the opportunity to pop in when needed. Thanks, Bernie Ellul.
Icy-Pole Friday's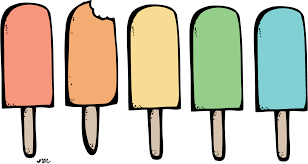 A reminder Year 6 students are selling icy-poles for $1 each on Friday's during Term 1. Orders are placed and paid for via the CDFPay system. Each classroom teacher will be given a list of names of their students who have placed an order and Year 6 students will distribute them to each classroom to ensure all students who have oredered one, receive one! Please ensure you tell your child if you have ordered an icy-pole for them, to avoid any confusion. Orders close at 5pm each Thursday.
Dates to Note!
2021 Sacrament Program: new dates for the parent meeting & sacrament dates TBA.
FEBRUARY:
Thursday 18th: Final Parent Teacher Meetings via Zoom
Wednesday 24th: Foundation Students Rest Day
Wednesday 24th: Swimming Program commences for Years 1 - 6 students
Friday 26th: Terry out (Principal Network)
MARCH
Wednesday 3rd: Foundation Students Rest Day (last rest day)
Wednesday 3rd: Swimming Program continues for Years 1 - 6 students
Monday 8th: PUBLIC HOLIDAY
Wednesday 10th: Foundation students commence 5 days per week
Wednesday 10th: Swimming Program for ALL students (Foundation students commence)
Wednesday 17th: Swimming Program for ALL students
Wednesday 24th: Final day of Swimming Program
APRIL
Thursday 1st: Last Day of Term 1
Friday 2nd: Good Friday
Saturday 3rd: Holy Saturday
Sunday 4th: Easter Sunday
Monday 19th: Term 2 commences
MAY
Thursday 6th: School Photos
Community News!
CRESWICK FOOTBALL NETBALL CLUB - Seeking Netballers!!
Hi, my name is Mikaela Jarvis, I am the junior coach at Creswick Football Netball Club. We are currently looking for junior netball players to come and join us for the 2021 season. We are very short on numbers this year and are looking for young players of any level born between 2006 to 2013. Additionally, we will also be running a NetSetGo program for the younger ages commencing term 2 - more details to come. Training is held on Thursday nights from 5pm. We hope to see some of you running around on the court with us. I can be contacted on 0429 120 842. Thanks, Mikaela.