Term 2, Week 6: Thursday 27th May, 2021
COVID Lockdown Update
The Victorian Government today announced new directions to prevent the spread of the coronavirus (COVID-19). From 11:59pm tonight, Victoria will enter a 7-day circuit breaker lockdown.
As a result, in line with the directions issued from Victoria's Chief Health Officer, we will move to a period of remote and flexible provision from Monday 31 May to Thursday 3 June inclusive.
Tomorrow, Friday 28th May, will be used as a planning and preparation day for staff in anticipation of a four-day off-site learning program. Therefore, there will be NO school for students tomorrow.
We will continue to provide on-site supervision for students in the following categories:
Children whose parents are considered essential workers as listed, cannot work from home and where no other supervision arrangements can be made
Vulnerable children, including children in out-of-home care, children deemed by Child Protection and/or Family Services to be at risk of harm and children identified by the school as vulnerable (including via referral from a family violence agency, homelessness or youth justice service or mental health or other health service).
During this period we will enable continuity of learning from home. Teachers will meet in the morning to plan the week ahead and we will notify families of the process via Seesaw tomorrow.
Confirmation
Confirmation was celebrated in our parish church on Sunday 23rd May for our first group of students, with our second group due to receive the sacrament this Sunday 30th May. However, due to the snap lockdown, a new date for our second group will need to be arranged. We will advise the families concerned of the new date, as soon as possible!
The gathering used traditional Christian symbols to focus the celebration. These symbols are:
The cross, under which all Christians gather to live and pray
Water, by which the new member is brought into the life of the community
Light, which provides direction to one's life in the community
Word of God, which forms every Christian gathering for prayer
Chrism, the holy oil which speaks of the fragrant presence of the Spirit of God
These five symbols will draw together in the celebration of Confirmation.
As always, our children responded to the significance of the occasion, as they renewed their Baptismal promises with the support of their sponsors, friends and families, the St Augustine's school community and the faith community of the church. We are very appreciative of all who contributed to these special Masses, particularly Fr Gary Jones, Chris Schepis, Carlie Daley, Emma Paterson and Angelique Greene, the sponsors and finally, the parents and families of each of the candidates who worked with their children over the past four or five weeks.
We congratulate the candidates from Sunday 23rd May, they are:
Harriette Preston, Mac Charleson, Amelia Dubberley, Max Donovan-Clancy, Max Clohesy, Jack Howie, Jayda McCarthy, Christian Abadilla, Lexie & Emilia Coyle, Dani Crilly, Dakotah Baker, Abbi Gervasoni, Erika Buehner, Eleanor Fraser, Sienna Burns, Roy Martin, Izak and Grace Davis
Students Reports
The teachers are very busy preparing our data basis to begin the process of writing reports. They use assessment data they have collected during the year to report on your child's academic progress as well as their work habits. With all being well, the reports will be available on Friday the 25 June, with parent-teacher interviews scheduled to take place early next term.
All teachers will be conducting parent /teacher interviews. This will be happening online again this year. These serve to clarify aspects of the parents' reports and allow for questions and discussion between parents and their child's teacher. These will occur very early in Term 3. More information to follow in the first week back.
We look forward to reporting on your child's progress and discussing this at the interviews in a few weeks.
Goldfields Athletics Day!
The day started a bit on the cool side, but soon warmed up and the sun shone brightly. Our students were outstanding, they gave it their best, and many came home with ribbons pinned to their chest. They were supportive of each other and other competitors and were always prepared to cheer for all that passed. Thank you to Melissa Willey for preparing our students and coordinating the event and for providing student results from the day (see below). The day was well organised by Daylesford Primary, and congratulations to St Michaels Daylesford, who took honours on the day and went home with the winner's shield, and we came in a very credible second place. Some standout performances on the day were:
Congratulations to the following students who placed in their chosen events:
Alexa Novak: 2nd Shot put, High jump
Isla Keating: 2nd High jump
Lexie Coyle: 1st High jump, 2nd Long jump, 100m
Annabella Miller: 1st Shot put, Discus
Zahra Winduss: 3rd Shot put, Long jump, 100m
Abbi Righetti: 3rd High jump
Lily Evans: 1st High jump
Jack Clohesy: 1st Long jump, 3rd 800m
Bella Hocking – 3rd Long jump
Bing Scopel: 3rd 1500m, 1st 800m, 2nd High jump, Long jump
Max Clohesy: 1st 100m, 200m, 2nd High jump
Izak Davis: 1st Long jump
Hugh Miller: 1st Shot put, 2nd 200m
Cohan Montano: 3rd 800m
Nicholas Quirk: 1st Long jump, 2nd 1500m, 3rd 100m
Tom Pearce – 3rd 100m, 2nd 200m
Georgie Righetti: 1st 100m, 2nd 200m, Long jump
Amelia Sewell: 3rd 200m
Angus Bullen: 2nd 200m
Jack Howie: 2nd 100m
Maple Budin: 3rd Long jump, High jump, 800m
10yo boys relay: 2nd - Max Clohesy, Izak Davis, Harry Evans & Christian Abadilla
10yo girls relay: 2nd - Maple Budin, Georgie Righetti, Ella Wright & Alma Grant
11yo boys relay: 1st - Jack Howie, Nicholas Quirk, Cohan Montano & Roy Martin
11yo girls relay: 1st - Zahra Winduss, Isla Keating, Alexa Novak & Lexie Coyle
12yo boys relay: 3rd - Callum Penhall, James Donovan-Clancy, Jonty Thomas & Declan O'Kelly
12yo girls relay: 2nd - Lily Evans, Paige Robinson, Dakotah Baker & Arya Donovan-Clancy
Cross Country Event
On Friday 14th May, 12 children represented St Augustine's in the District Cross Country at the Prince of Wales reserve. Congratulations to everyone, it was a cold Ballarat day but they all ran beautifully, giving their all!
A special mention to Abbi Righetti who ran 9th overall and will be travelling to Warrnambool on Monday 31st of May to compete at regionals. Good luck Abbi, we wish you all the best!
Melissa Willey - PE Coordinator
* Angus Bullen is missing from our photos but he also represented our school in the cross country.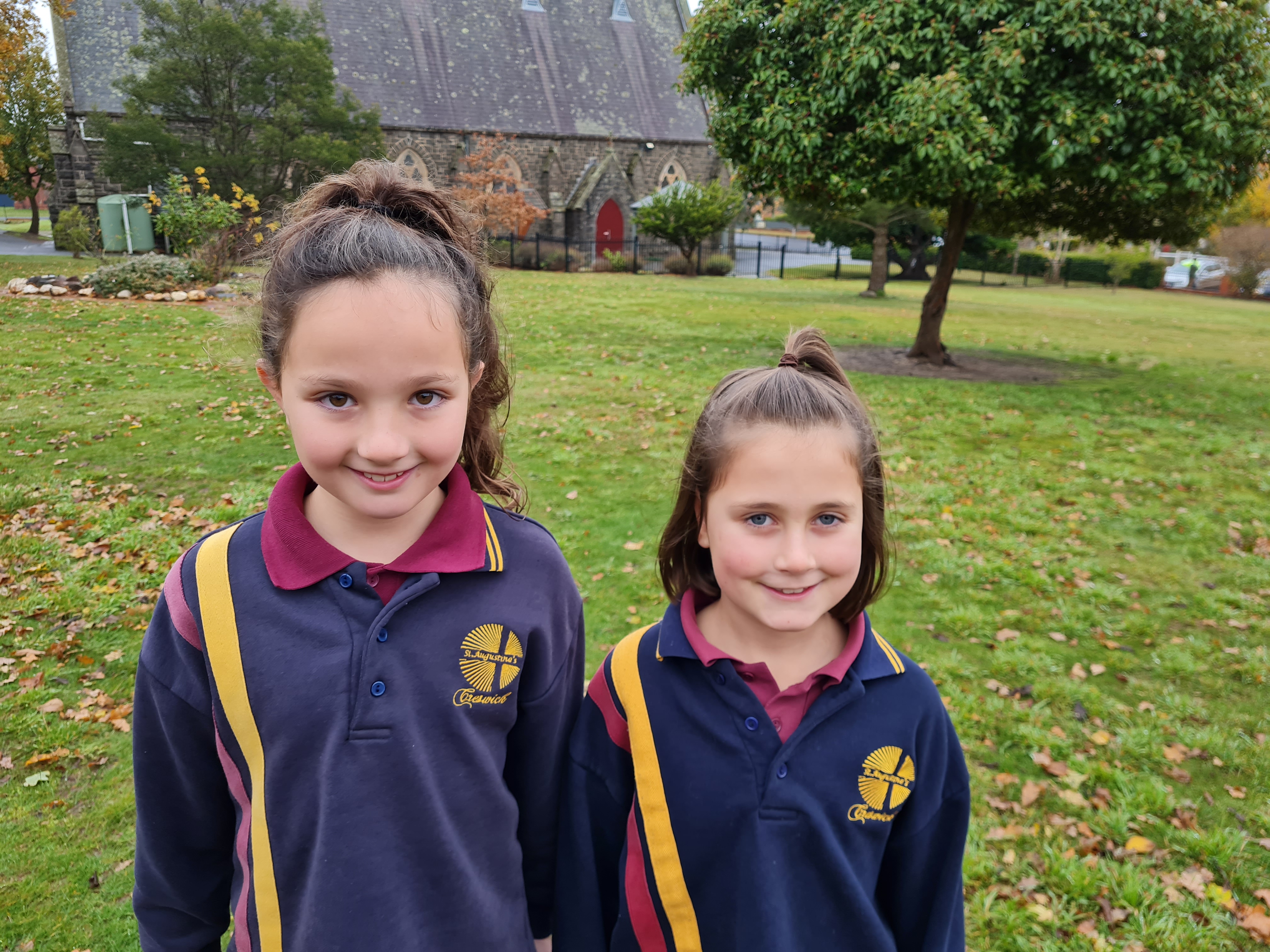 School Incursion - Mr Huff!
On Tuesday this week, the students were treated to a theatre show in our school hall. As part of our efforts to expand our well-being program this year, we booked Meerkat Productions to present a fun and relevant message to our student community. The play is based on a book titled Mr Huff, and it was written by Anna Walker. Mr Huff is a story about the clouds and the sunshine in each of our lives.
Bill is having a bad day.
Mr Huff is following him around and making everything seem difficult.
Bill tries to get rid of him, but Mr Huff just gets bigger and bigger!
Then they both stop, and a surprising thing happens………
A huge thank you to Estelle for organising such a successful day!
Pirate Day
'Pirate Day' was held on Friday 14th May. The students looked fabulous in their amazing costumes! A big thank you to all students, staff and parents for making Pirate Day so much fun and very successful with $263.80 raised on the day to assist childhood brain cancer research.
Well done to our SRC for all their hard work put into planning and organising the day.
Year 5 Secondary Education Experience Day - Cancelled
Unfortunately, due to the Stage 3 Lockdown announced by the Victorian Government today, the SEED session scheduled for next Friday 4th June, visiting Loreto College and St Patrick's College for our Year 5 boys and girls has been cancelled. The secondary schools will endeavour to arrange an alternative date. We will let you know as soon as the new date has been advised.
Congratulations!
Congratulations to Emelia and Lexie who recently competed in the 2021 Horse Trials State Championships. The girls are part of a team called "Barwon Bombers". They competed against 12 other teams in all 3 disciplines of dressage, show jumping and cross country and finished 4th overall - well done! A lovely reward for the commitment, time and energy put in!!
Tuck Shop
Obviously tuck shop orders for tomorrow have been cancelled. Any lunch orders placed for tomorrow, will be carried forward to Friday 4th June, that is assuming the lockdown ends on Thursday 3rd June as currently informed. Please do not place any further tuck shop orders, until we inform you new orders can be placed. The Term 2 Roster at this stage is as follows:
28/05/21: CANCELLED - Thea Elsworth & Emma Martin

04/06/21: Linda Penhall & Olga Torgovnikova
11/06/21: Shondra Baker & Kristy Tippett
18/06/21: Lana Taylor & Mel McCarthy
25/06/21: Josie Stephens & Brenton Smith
Dates to Note
MAY
Friday 28th May: Student free day / Staff planning day
Sunday 30th: Second Celebration of the Sacrament of Confirmation POSTPONNED (new date to be confirmed)
Monday 31st: Remote learning for students due to lockdown
JUNE
Tuesday 1st to Thursday 3rd: Remote learning for students due to lockdown
Monday 14th: Public Holiday - Queen's Birthday
Friday 25th: Last day of Term 2