Term 3, Week 10: Thursday 16th September, 2021
Dear Parents and Carers
It's hard to believe that the term is almost over and we have been in remote learning once again. Whilst the term has had its challenges, it has been a joy to see the positive attitude of our students both online and at school. I want to thank everyone involved in the school community for their continued support, positive attitude and commitment to ensuring our students continue to have the opportunity to achieve success.
As we near the end of Term 3, we reflect on the term, it was pleasing to see that the children have been able to return to school for some of the term, and the time spent on remote learning was short in comparison. We are still mindful of the effects that it can and has had on our students.
To our students…
Thank you for the way you have adapted to the constant change from home learning to remote learning and back again. Your ability to adapt during these times and to keep the learning process alive is a credit to you.
To our families….
Thank you for working with us to maximise the learning opportunities for your children. Your efforts to take on this new role are noted and very much appreciated by all at St Augustine's. We are aware of the burden this has on your mental health and family routines. Hopefully, there are brighter times ahead.
To our teaching and support staff…..
As I have said many times, we are fortunate to have staff that constantly take care of their business and always put the needs of our students at the forefront of every decision that is made. Your willingness to step up, examine the playing field and adjust your teaching and learning practices in an ever-changing environment, is a credit to you as professionals. Still, more importantly, it highlights the essence of each of you as a caring individual.
To our Admin Officer….
Thank you for the work that you do every day. Your commitment to the staff, parents and students is noted and very much appreciated by all, mainly when things are tough or forever changing. As I work through my day, I get to hear the support and advice you provide to our community, and I am confident that you are the reason we are cruising along the way we are.
To our leadership team….
Thank you for your ongoing support and relentless focus during this term. Your commitment to ensuring every decision made by the school is focused on the needs of our students and staff is commendable.
End of Term 3
I recently read an article from NSW Chief Psychiatrist Dr Murray Wright, who said that it is essential to talk about what is happening in lockdown, with a sense of hope when talking to our children.
"We focus at times in the public space on all the restrictions and all the problems and all the obstacles and all the difficulties that creates," Dr Wright said. "And those things are real. But it's also important to balance those out. Otherwise, there's a sense of despair which settles in on the whole community."
He said it is "undeniably a difficult situation" impacting everyone in the community and encouraged parents to look for behavioural changes in their children."
It will not always be like this, and we need to identify and discuss that there are reasons as to why this is happening, but also highlight the fact that tomorrow is a different day. There are very clever people working on solutions to enable us to return to normal. As the holidays approach, keep a close eye on those around you, look for the subtle changes and provide opportunities to enable them to express what they are feeling.
- Terry Brennan -
School Sports Day Update
Dear families, as you are all aware, the restrictions around what we can and cannot do within our school environment continues to change, often at the very last minute! We remain hopeful that our school sports day will go ahead as planned on Friday 8th October and that parents will be allowed onsite to support and cheer us on. However, a lot can change in a few weeks and unfortunately, we won't be able to confirm whether parents will be able to attend or not, until we return next term. As soon as we know more, we will let you know. Thank you for your support and patience during this time and I hope to deliver good news to you when we all come back in Week 1 of Term 4.
Thank you, Mrs Willey.
Tuck-Shop Changes
Although Term 4 is a summer term and we do plan on reverting back to icy-poles instead of hot lunch orders on Fridays, we note that due to lunch orders originally paid for & placed for Friday 27th August and 3rd September, that did not go ahead due to lockdowns, that these orders will be honoured in Term 4 on Thursday 7th October, due to the many things already planned for Friday's in Term 4. As our School House Sports Day is planned for Friday 8th October, icy poles will therefore, commence from week 2 of Term 4 and will replace lunch orders. Note that icy poles will not be paid for using CDF Pay as in Term 1, rather students will need to bring in $1 each Friday to purchase their icy-pole during the 2nd break (1:45 to 2:15 pm).
A REMINDER we extend an invitation to interested parents to join our Tuck-Shop committee. We are looking for a group of around 3 parents to coordinate tuck-shop in 2022 in consultation with the Leadership Team. We feel that a group of parents could bring fresh ideas and menu choices to our tuck-shop, and also enable it to run all year.
We ask you to please consider taking up this role, which will commence in 2022. Please feel free to contact the Leadership Team to discuss this further, thank you.
- Emma Paterson on behalf of the Leadership Team -
Rebel Community Giveback Program!
A reminder that should you shop at Rebel, please remember to mention St Augustine's Creswick at the checkout, as the school then receives 5% of the sales as a credit to be used to purchase equipment. Thank you to Chris for dropping in on the weekend to spend our current credit, purchasing frisbees for all to enjoy and also for providing these photos of them being used by the students in the sunshine today! Please refer to the attached flyer with regards to the Rebel Community Giveback Program.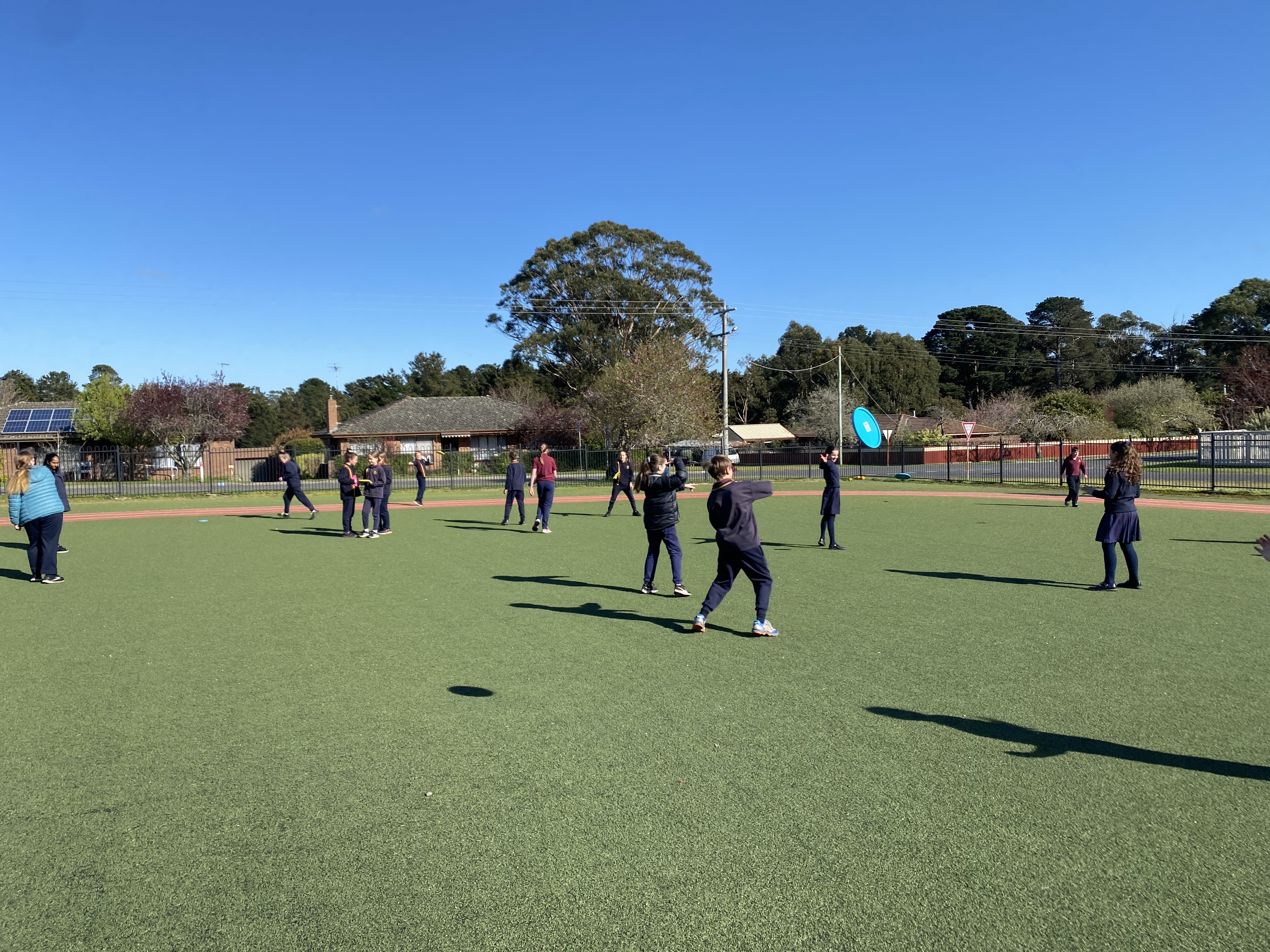 Dates to Note!
SEPTEMBER
Friday 17th: Footy Colours Day (run via zoom for students learning remotely)
Friday 17th: Last day of Term 3 - students finish at 1:45 pm
TERM 4
OCTOBER
Monday 4th: School commences for Term 4
Thursday 7th: Make up Term 3 lunch orders supplied today!
Friday 8th: School House Sports Day
Thursday 14th - Friday 15th: Year 3 Camp (Adekate)
Friday 15th: Icy-poles now available to purchase $1 each to be paid for on the day
Tuesday 19th: Parent Meeting for Sacrament of Eucharist
Friday 22nd: Teddy Bears Picnic
Friday 29th: Year 2 Sleepover (more information to come)
Sunday 31st October: Dismissal Mass
NOVEMBER
Monday 1st: Student Free Day - School Closure (whole staff RE PD)
Tuesday 2nd: PUBLIC HOLIDAY - Melbourne Cup
Sunday 7th: Dismissal Mass
Sunday 14th: Dismissal Mass
Sunday 21st: Celebration of the Sacrament of Eucharist
Thursday 18th: Student Free Day - School Closure (Staff Literacy PD)
Monday 22nd to Wednesday 24th: Year 6 Camp
DECEMBER
Wednesday 1st & Thursday 2nd: Life Education visit
Thursday 2nd & Friday 3rd December: Year 4 Camp at Lady Northcote
Tuesday 7th: 2022 Foundation Orientation Day / Moving Up Day
Monday 13th: Year 6 Fun Day
Tuesday 14th: Year 6 Liturgy
Wednesday 15th: Year 6 Graduation
Wednesday 15th: Last day for ALL Students - students finish at 3:15 pm!
Thursday 16th: Staff planning day
Friday 17th: Last day for Staff