Term 4, Week 4: Thursday 28th October, 2021
From the Principal's Desk
COVID Poem
When this is over, may we never again take for granted:
A handshake with a stranger, full shelves at the store
Conversations with neighbours, a crowded theatre
Friday night out, the taste of communion
A routine checkup, the school, rush each morning
Coffee with a friend, the stadium roaring
Each deep breath, a boring Tuesday Life itself.
When this ends, may we find that we have become more like the people we wanted to be, we were called to be, we hoped to be and may we stay that way, better for each other because of the worst.
Laura Kelley Fanucci
As we transition back to face-to-face learning, it is essential to re-establish the routines and structures that also support students to be successful learners. As students return to school, teachers will scaffold them through consistent practices that help them feel safe and confident in their learning. It is also essential to return to regular home learning routines. While there may be some fatigue from both parents and students around home learning, this is crucial for students to embed skills taught during the day and build their fluency in reading, spelling and numeracy. Research has shown that students who practise their learnt skills at home for short periods, are more likely to embed their knowledge and grow their learning faster. So how can you support your child to keep learning at home? Here are some tips:
** REMINDER: A reminder that Monday 1st November is a STUDENT FREE DAY due to staff attending a whole school PD and Tuesday 2nd November is the Melbourne Cup PUBLIC HOLIDAY. Enjoy the extra long weekend!!
School Shade Sail Program
To continue providing the highest level of safety for our students, we have applied for a grant of up to $25,000 for shade sails. This will provide for additional external learning spaces. We are fortunate to be able to use our shade sail structures as an external learning space. The teachers are already planning how they can incorporate this outdoor space into their teaching and learning. This, together with measures such as keeping doors and windows open, mask-wearing, physical distancing, hand hygiene, will provide the safest school environment that we can.
St Augustine's Parish Update
On Thursday 14th October, Bishop Bird announced a parish appointment in the Diocese that will take effect on 10th January, 2022. Fr Justin Driscoll will become Parish Priest of the Creswick, Daylesford and Gordon Parishes.
Sacrament of Confirmation
We were finally able to celebrate our final group of Confirmation candidates who received the Sacrament on Thursday 14th October. Due to the number restrictions which were still in place at the time, our last group of candidates became two smaller groups. All were thankful that they were finally able to receive the Sacrament of Confirmation!
We CONGRATULATE the following students:
Ella Wright, Georgina Righetti, Miley Singline, Aisha Singh, Alexa Novak, Bing Scopel, Milla Preston, Zara Winduss, Jasper Szalonti and Ashton, Jacob & Elijah Van Raaphorst
Eucharist Celebration
Hopefully we are back on track to complete the Sacramental Program for 2021. The Program has been altered, with a student retreat day now being held to replace the dismissal Masses. The retreat day will take place on Monday 15th November. This will take place at school and will be conducted by St Augustine's staff. The Mass to celebrate the sacrament of Eucharist will be held at St Augustine's Church at 5:30 pm on Saturday 20th November.
A REMINDER the parent meeting for this sacrament is being held on Tuesday 9th at 3:30pm at school. We take this opportunity to wish our candidates and their families all the best as they prepare for the Sacrament of Eucharist.
Covid Update
The following COVID Restrictions remain in place when anyone visits the school site:
Masks are required to be worn by parents at all times when in school.
Please communicate with staff via phone, email or seesaw if possible.
The Office is closed to all, but essential visitors.
All extra cleaning and hand hygiene that was in place, is still being adhered to.
Please do not send food items to share with others when it is your child's birthday, as they cannot be handed out.
If your child is sick or displaying symptoms, please keep them at home. Children that present as sick or displaying symptoms at school will be sent home. We prefer that they gain a medical clearance or a negative COVID test before they return to school.
Masks must be worn when inside by students in Years 3 and above and recommended for students from Foundation to Year 2.
The back drive-through is open for pick up and drop off.
Vic Health has advised schools that parent helpers described as irregular visitors are now required to be fully vaccinated if they are close to staff and students. Leadership has expanded that requirement to include any parent that comes in close contact with staff and students for 15 minutes or more, will be required to be double vaccinated.
World Teacher's Day
Australia will celebrate and thank the teaching profession on World Teachers' Day on Friday 29th October, 2021.
Teachers (with support from parents and carers) have ensured education continues across the country this year, despite significant challenges. It's reinforced the considerable role teachers play in the lives of children and students, their families and communities.
I am sure you will join me, in thanking the staff for their dedication, commitment and care of your children. As staff at St Augustine's, we know we are privileged to be working in such a wonderful community.
Things to Look Forward To!
At the moment, schools are restricted to one person per every 4 square metres. Our largest room is the hall at 120 square metres, to put it into perspective. This means that we can accommodate only 30 bodies in that room at one time. Using school staff and students, we have no limits, but if we introduce one person outside the school, the numbers drop to one person per 4 square metre limit. Where we can hold things outside, we will endeavour to do so.
We have some exciting things planned across this term:
Melissa will complete the gymnastics component to her PE Program this term, so that all classes will complete a program focusing on gymnastics skills
School Sports Day is being held on 12th November
The Teddy Bears Picnic is on 19th November
Camps and Sleepovers can now take place after 29th October
The SRC is planning some fun days between now and the end of the year.
As restrictions will ease considerably as of this Friday 29th October, we invite parents and carers to join us at our Monday morning student briefings. This takes place at 9 am outside on the grid. It is not an assembly as such, rather a small briefing with a welcome to school, national anthem, prayer, welcome to country, birthday acknowledgements and an outline of what is happening across the week. The next gathering will take place on Monday 8th November - join us!
- Terry Brennan -
Foundation Class
This term in Foundation we are learning about procedure writing. We made Fairy Bread and wrote a recipe to follow. Mr Brennan loves Fairy Bread, so he came to make some too!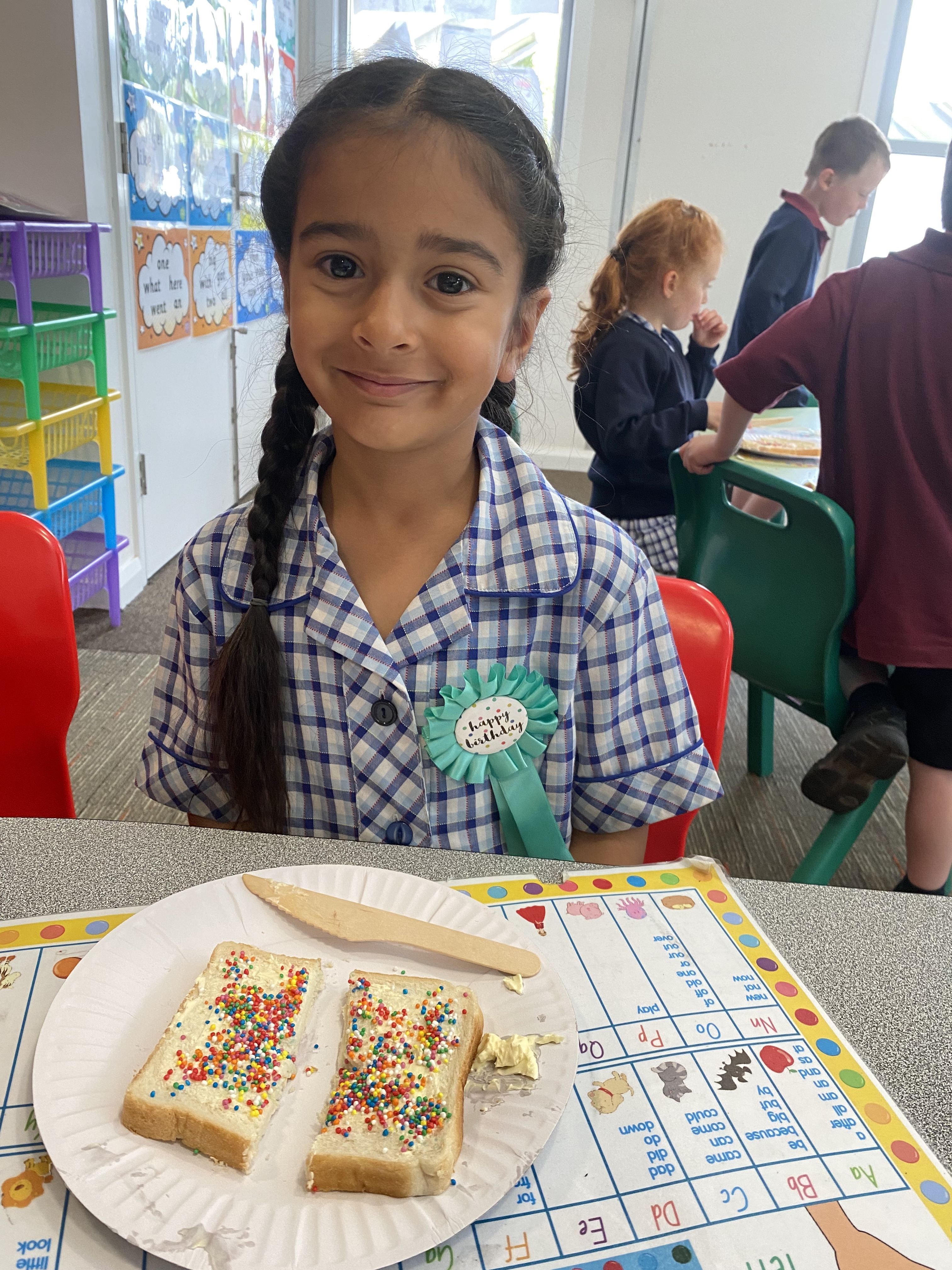 Ms Emma Paterson - Foundation Teacher
News from the Year 2 Class!!
The Year 2's participated in the Words In Winter competition. They had to draw or write about their 'dream'. Evie chose to draw about the need to protect our bees. Her picture was published in The Local magazine and won some prizes. Well done and congratulations Evie!
Mrs Celly Csorba - Year 2 Classroom Teacher
Specialist Classes - Please be Aware!
Students attend three specialist classes for one hour per week, they are: Art, PE/Health and Japanese. Students look forward to these classes every week, so we ask you to please consider what day you book necessary appointments for your child, to ensure they are on an alternative day, outside the specialist class days/times to avoid interruption. Thank you!
Please note the Specialist Classes timetable below:
- Junior students (Foundation - Year 3) each Thursday from 11:45 am to 3:15 pm
- Senior students (Year's 4 - 6) each Wednesday from 11:45 am to 3:15 pm
A reminder also of the school daily timetable. We ask that where children need to be picked up for appointments, etc. that they are picked up at either the start or end of break times, not during the breaks, as students either need to sit and wait for long periods for parents to arrive, or if students go out into the yard, they can be hard to locate. School break times are:
FIRST BREAK - 11 am to 11:45 am SECOND BREAK - 1:45 pm to 2:15 pm
School House Sports Day
It's official! Our school house sports day will go ahead this year YAY and is being held on Friday 12th November. We look forward to welcoming you all back on site! If you have not as yet advised you are able to assist on the day, please let Mandy know asap so I am able to allocate you a role. Please remember when you are on site you will need to check in and maintain social distancing. To get in the spirit, the children are invited to come dressed in their team colours. If you don't have anything in that colour, their sports uniform is fine to wear. If you and your child are unsure of their team colour, please get in touch with your classroom teacher. The morning will begin at 9.15 am, however, children will still start school at the normal time, with morning rotations beginning at 9.30 am and running until 11.20 am. A program outlining the day's events, will be sent home the day before .
We're hoping to have a coffee van on the day, however, Terry will clarify this closer to the day. Should you have any further questions, please do not hesitate to contact me. See you there!
Mrs Melissa Willey - PE Coordinator
Graduation Bears/Balls
Please forward orders to Mandy via email NO LATER THAN Thursday 2nd December. The Graduation Bears are $14.95 each and the Graduation Balls are $13.20 each. These items can be paid for via CDFPay. Further details are:
Extremely high quality
Bear - Height: 40 cm tall - Moveable Arms & Legs
Comes with a quality Permanent Marker
Bear Memories® can guarantee these are the highest quality graduation bears available in Australia!
All graduation bears and balls come in protective plastic poly bags.
Beware of imitations.
Dates to Note!
TERM 4
NOVEMBER
Monday 1st: STUDENT FREE DAY - SCHOOL CLOSURE (whole staff RE PD)
Tuesday 2nd: PUBLIC HOLIDAY - Melbourne Cup
Friday 5th: Foundation & Year 1 students excursion to the Halls Gap Zoo
Friday 5th: Year 2 Sleepover
Tuesday 9th: Parent Meeting for Sacrament of Eucharist at 3:30pm
Friday 12th: School House Sports Day
Monday 15th: Retreat Day for Eucharist students (to replace Dismissal Masses)
Thursday 18th: Student Free Day - School Closure (Staff Literacy PD)
Friday 19th: Teddy Bears Picnic & visit from Camp Quality (incursion - refer attached flyer)
Saturday 20th: NEW DATE & TIME - Celebration of the Sacrament of Eucharist at 5:30 pm
Tuesday 30th: Life Education Program visit
DECEMBER
Wednesday 1st: Life Education Program visit
Thursday 2nd & Friday 3rd December: Year 4 Camp at Lady Northcote
Friday 3rd: Year 6 DAY OUT - Camp Replacement
Tuesday 7th: 2022 Foundation Orientation Day / Moving Up Day
Monday 13th: Year 6 Fun Day
Tuesday 14th: Year 6 Liturgy
Wednesday 15th: Year 6 Graduation
Wednesday 15th: Last day for ALL Students - students finish at 3:15 pm!
Thursday 16th: Staff planning day
Friday 17th: Last day for Staff
2022 SCHOOL YEAR
* Friday 28th January - Staff commence the 2022 school year
* Monday 31st January - Whole staff PD
* Tuesday 1st February - Students commence the 2022 school year
Spring Festival Changes
Regretfully, some details of the Spring Festival have been changed.
Pavilion Arts Lantern Festival has been altered to take place from 6pm to 8pm on Friday November 12th
The Lantern Parade is run by the Creswick Pavilion Arts and Sustainability Group and as such, is NOT a school run event, but more of a school support event. Our staff will not be supervising on the night, but our students will be making lanterns at school to take to the event if you wish for them to participate.
The Scouts' Billy Cart Race is cancelled!
Art Exhibition at Town Hall is open:
Friday 19 Nov between 1 - 4 pm & Sat to Mon (20th –22nd) between 10am & 4pm
Old Masters Exhibition being held on 20th & 21st November
As you know this has been a year of frustration which has tested our flexibility. If you have any questions or require further information, please contact Audrey Winther on 0421 492 332.
Today we held a special staff morning tea celebration, to CONGRATULATE Staci Jones on on her upcoming Wedding day - this Sunday 31st October.
From the St Augustine's school community, congratulations to Staci & Andrew on their very special day, we all wish you both many years of happiness ahead!!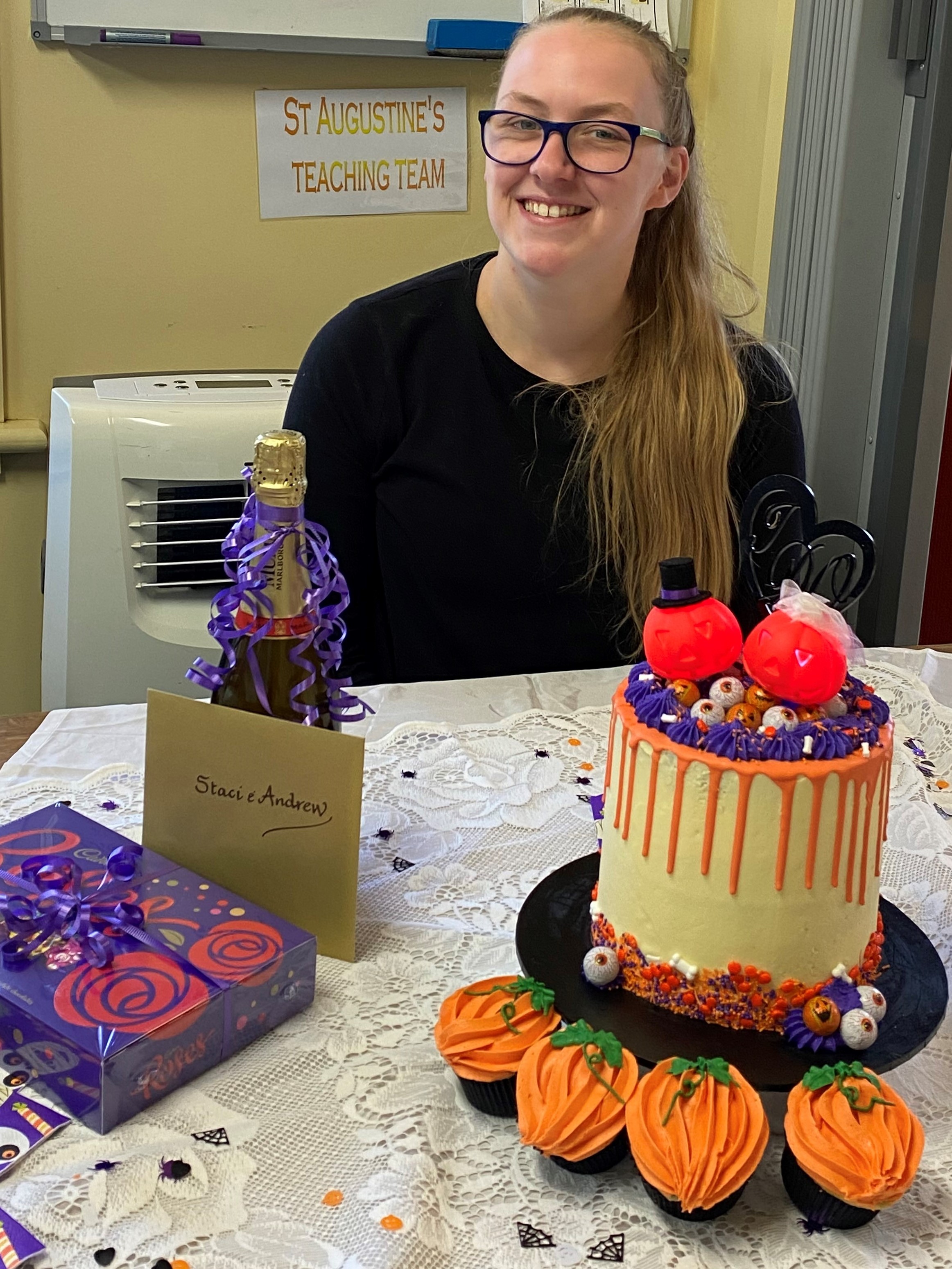 Ballarat Spring Show Online Competition Schedule and Colouring Competition
As everyone would now be aware, the Ballarat Agricultural and Pastoral Society made the difficult decision earlier this year to cancel the 2021 Ballarat Spring Show due to the ongoing impact of the COVID-19 pandemic.
In its place we are hosting an online competition schedule that includes categories for pre-school, primary and secondary school students. Entry is free!
Exhibits must have been created within the last 12months.
To enter all we need is an email with the following details:
Name
Age & Year Level
Image of exhibit
Entry Class
Description of article
Further details are available in the attached Ballarat Spring Show Competition Schedule or via our website at:
https://www.ballaratshow.org.au/attractions-events/ballarat-show/online-competititions/
Also attached is our annual Spring Show Colouring Competition, or you can collect a printed copy from your school office.
Entries close soon! Please feel free to contact us with any questions.
Kind Regards,
Angela McLachlan
Events Coordinator
Ballarat Agricultural and Pastoral Society
Phone: (03) 5338 1877 Mobile: 0409 550 127 Email: amclachlan@ballaratshow.org.au