Term 4, Week 8: Thursday 25th November, 2021
Advent
God of hope
Be with us in our Advent journey
To the stable and beyond
Be with us in our meeting,
And in our travelling together,
Be with us in our worship
And our praying together,
Be with us in our Advent journey
To the stable and beyond
Amen.
We live in a fast paced, somewhat instant world. We turn on our TVs and watch the movies we want – on demand. We expect service and want what we want, when we want it. Waiting, especially patiently waiting, is not something we do well as a society. In this fast paced, somewhat instant world, Advent is extremely radical and different. These weeks call on us to focus on waiting – patiently – for the Lord. Instead of instant results and rapid fulfilment, we are called to wait with expectation for the Lord. As Christmas approaches there is a need to prepare ourselves for the birth of Jesus. In Advent, giving the family time to talk about why Jesus' coming is important. Advent is a time to see how ready we are to receive the Lord Jesus in our lives. Jesus' coming at Christmas is an invitation to accept his love, his peace and his joy. During these weeks we prepare ourselves to accept this invitation. The Advent wreath in all its various forms is a visual prompt to aid our focus.
The circular wreath reminds us of God Himself, His eternity and endless mercy, which has no beginning or end. The green of the wreath speaks of the hope that we have in God, the hope of newness, of renewal, of eternal life. Candles symbolize the light of God coming into the world through the birth of His son. The four outer candles represent the period of waiting during the four Sundays of Advent, which themselves symbolize the four centuries of waiting between the prophet Malachi and the birth of Christ.
School Transition
Over the coming weeks our Year 6 students will be involved in transition days to their Secondary schools. Transition forms have already been completed for the students and they have met with teachers from their Secondary schools and will now begin visits to their Secondary Schools.
Our orientation day for new students in 2022 is being held on Tuesday 7th December. On this day our current students will be involved in 'moving up' day, where they will work with their 2022 teacher from 9:30am to 11 am. This will enable the children's 2022 teacher to meet your child and your child to become more familiar with their new teacher.
The move from kindergarten to primary school is the start of big changes in a child's life, development and education. We acknowledge how daunting this move can be and we try to make the move as seamless as possible. Our transition program is guided by the following practices:
visits by children between early childhood services and schools
visits by teachers to early childhood services
exchanging information about a child's learning and development
an orientation day at the new school
a 'buddy' system where older school children help Foundation children to have a welcoming experience from the start of primary school.
Life Education Van Visit
Life Education has been successfully supporting primary school drug and health education since 1979. Life Education's comprehensive programs have been specifically designed to assist us achieve the outcomes of the state curriculum. Activities are based on the Health and Physical Education outcomes. They are also designed to be integrated into additional curriculum areas, as deemed relevant.
Primary schools play a vital role in preparing children for life and in shaping their journey through school. Research shows that the earlier we encourage children to develop positive self image, self esteem and a feeling of uniqueness, the better equipped they are to make positive healthy choices later in life.
Life Education assists student to:
acquire age appropriate knowledge to support informed health choices
develop and practice skills and strategies to act upon individual decisions
recognise the values and attitudes that may influence lifestyle choices and behaviours.
Their Mobile Learning Centres provide a unique learning environment and their trained educators use an innovative teaching and learning approach to engage students. Their program is designed by health and education experts, constant revisions ensure relevancy and appropriateness for all students.
The program is not a rulebook, it does not dictate to children and this is essential to their success. They provide the information, understanding, skills and strategies they require to make safe decisions about their own health and well-being.
(Adapted from Life Ed website)
This year our students will be covering the following units of work:
Foundation - My body matters
Year 1 - Harold's Friend Ship
Year 2 - Safety Rules
Year 3 - B Cyberwise
Year 4 - All Systems Go
Year 5 & 6 - Relate, Respect, Connect
The Life Education van will be at our school on the Tuesday 30th November and Wednesday 1st December at a cost of $12 per student - this fee has already been added to fee accounts.
Fundraising Levy
2021 is a year we would rather forget for many reasons, but there has been a positive feature woven within. With the aid of your fundraising levy contribution, we have managed to purchase enough computers to enable all students in the 5/6 hub to have access at any time of the day. Next year's focus will be on retiring our bank of thirty iPads to be replaced with the latest model.
School Sports
A big thank you to all the families that came to our annual sports carnival on Monday, your children really appreciated your presence and support. Thanks also to the school staff who helped make the day a success and finally a special mention to Melissa Willey, our Sports Coordinator, who ensured that things were well planned and ran smoothly on the day. Well done to all students who participated and CONGRATULATIONS to all our winners across the day. Please refer to detailed information provided by Melissa and photos provided by various staff included below.
- Terry Brennan -
School House Sports Day!!
After postponing our school house sports day previously due to poor weather, we certainly got lucky with an absolutely spectacular day on Monday! It was wonderful to see the students getting into the spirit of the day, dressing in their team colours and cheering each other on.
Congratulations to all students for their efforts on the day. A special mention goes to the students who received the Sportsperson's award for their sportsmanship and participation during the day. Our 2021 recipients are:
* Foundation: Reggie McNaulty
* Year 1: Elijah Coulter
* Year 2: Blake Gullock
* Year 3: Jack Clohesy
* Year 4: Declan Ruddy
* Year 5: Hugh Miller
* Year 6: Arya Cameron Lench
Congratulations to the GOLD team for being the overall winners on the day with 6389 points! A special mention also to the BLUE team, who were the winners of the annual Team Spirit Award.
I wish to thank all the parents who managed to take time away from their busy week to help out and support your children on the day. We appreciate your time and support immensely!
My New Gallery
My New Gallery
Melissa Willey - Sports Coordinator
Gardening Club
THANK YOU to Staci Trafford who has been working with the keen members of our newly created Garden Club. Volunteers meet with Staci each Tuesday to beautify our school.
Eucharist Retreat
The children took part in a Eucharist Retreat which was a successful and enjoyable day, the children had the opportunity to meet with Father Kevin and experience receiving the host.
First Holy Communion
Congratulations to all those children who made their first Holy Communion on Saturday 20th November and a big thank you to Father Kevin!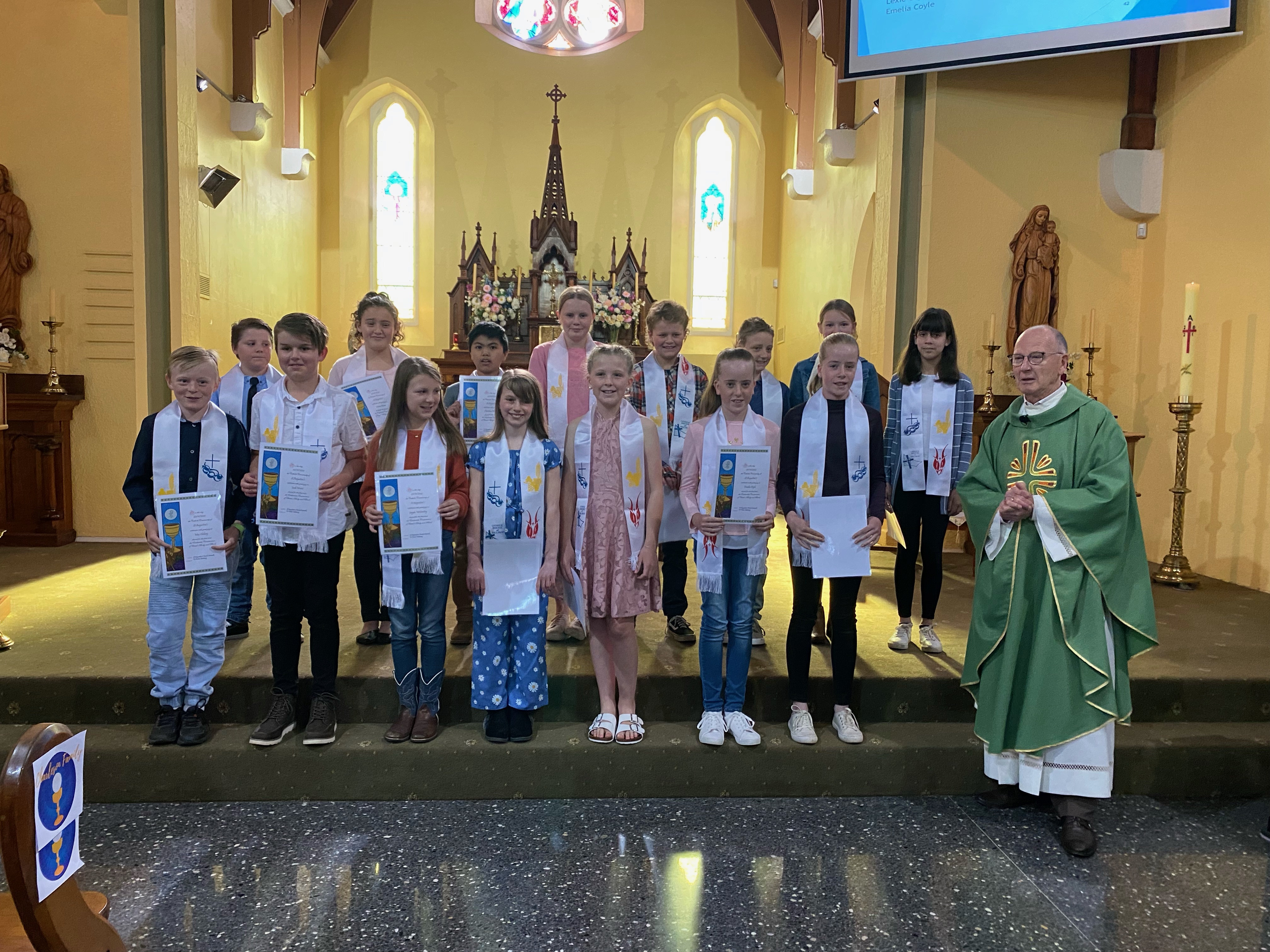 Camp Quality Incursion
The students attended an informative and entertaining puppet show, performed by Camp Quality held on the Teddy Bears Picnic day. The puppet show sparked conversation about inclusiveness and understanding.
Thank you to Chris Schepis for supplying pictures for the Garden Club,
Eucharist Retreat, Eucharist Celebration & the Camp Quality incursion!
Teddy Bears Picnic!
What a wonderful day was shared last Friday, with many fun activities running across the day, along with the incursion with Camp Quality visiting our school. All students had a fabulous day in support of the Davidson family.
We want to send a huge thank you to everyone for their support of our Teddy Bears Picnic! We would especially like to thank those who donated to the day: Creswick IGA, Creswick Bakery, Elevation Dance Co, Mars and Annaleise Robinson. Without these generous donations the day would not have been such a success.
We send our thoughts to the Davidson family.
TEDDY BEARS PICNIC RAFFLE - PRIZE WINNERS:
School fees ($1,000) – Righetti family
Dance Party – Abadilla family
Paddington Bear – I & R Miller family
Slushie Machine – Bernie Thomas family
Mars Chocolate Pack – Righetti family
Mars Chocolate Pack – Albie Thomas
Mars Chocolate Pack – Jack Howie
Mars Chocolate Pack – Fiona Trounce
Mask – Chahal Family
Mask – Levi Taylor
Congratulations to the winners of our Colouring Competion!!
Junior: Georgia Reid
Middle: Alma Grant
Senior: Lily Evans
Specialist Classes - Please be aware!
Students attend three specialist classes for one hour per week, they are: Art, PE/Health and Japanese. Students look forward to these classes every week, so we ask you to please consider what day you book necessary appointments for your child, to ensure they are on a different day, outside the specialist class days/times to avoid interruption. Thank you!
Please note the Specialist Classes timetable below:
- Junior students (Foundation - Year 3) each Thursday from 11:45 am to 3:15 pm
- Senior students (Year's 4 - 6) each Wednesday from 11:45 am to 3:15 pm
A reminder also of the school daily timetable. We ask that where children need to be picked up for appointments, etc. that they are picked up at either the start or end of break times, not during the breaks, as students either need to sit and wait for long periods for parents to arrive, or if students go out into the yard, they can be hard to locate at a specific time. School break times are:
FIRST BREAK - 11 am to 11:45 am SECOND BREAK - 1:45 pm to 2:15 pm
Graduation Bears/Balls
FINAL REMINDER to please forward orders to Mandy via email NO LATER THAN Thursday 2nd December. The Graduation Bears are $14.95 each and the Graduation Balls are $13.20 each. These items can be paid for via CDFPay. Further details are:
Extremely high quality
Bear - Height: 40 cm tall - Moveable Arms & Legs
Comes with a quality Permanent Marker
Bear Memories® can guarantee these are the highest quality graduation bears available in Australia!
All graduation bears and balls come in protective plastic poly bags.
Beware of imitations.
Dates to Note!
TERM 4
NOVEMBER
Tuesday 30th: Life Education Program visit
DECEMBER
Wednesday 1st: Life Education Program visit
Thursday 2nd & Friday 3rd December: Year 4 Camp at Lady Northcote
Friday 3rd: Year 6 DAY OUT - Camp Replacement
Tuesday 7th: 2022 Foundation Orientation Day / Moving Up Day
Thursday 9th: End of Year Celebration Event in the hall (details to come)
Monday 13th: Year 6 Fun Day
Tuesday 14th: Year 6 Liturgy - please rsvp with family numbers attending by 6th Dec!
Wednesday 15th: Year 6 Graduation
Wednesday 15th: Last day for ALL Students - students finish at 3:15 pm!
Thursday 16th: Staff planning day
Friday 17th: Last day for Staff
2022 SCHOOL YEAR
* Friday 28th January - Staff commence the 2022 school year
* Monday 31st January - Whole staff PD
* Tuesday 1st February - Students commence the 2022 school year
November Edition
The November edition of 'Our Diocesan Community' is now available.
Please take a moment to view this as we continue to share the good news stories of our schools, parishes and agencies across the diocese.
Build Creswick in 1863
Attention Years 4, 5 & 6, we're planning to create a scale model of what Creswick looked like in 1863 to use in a film being made by young people with Creswick Theatre Company. The model will require basic drawing, gluing, cutting skills and an interest in history would be helpful.
If you're interested, please scan the QR code below, fill in the details and we'll be in touch with you and your parents/guardians to coordinate times. Alternatively, send an email to Damien at Deepdig3363@gmail.com
From: DeepDig3363, A Creswick Theatre Company Youth Project
Kelly Sports Summer Holiday Programs
A full day of fun activities & sports, run by our experienced coaches to keep your kids entertained & active this summer.
Mon 13th to Fri 24th December 2021 & Tue 4th to Fri 28th January 2022
(Excluding weekends & Public Holidays)
Location: Eastwood Leisure Centre, Ballarat
Times: 8am to 5pm Ages: Kinder to Grade 6
Cost: $50 per child per day ($45 per child per day for 5+ days)
Enrol: Online at www.kellysports.com.au/greater-ballarat
Queries: Call Dom 0417 967 621
*Note: Covid Guidelines will be in place. All of our coaches are fully vaccinated.