Newsletter: Term 1, Week 2 - Friday 4th February, 2022
The 2022 School Year begins!
Welcome back to St Augustine's Primary School in 2022. The school grounds and classrooms were absolutely buzzing on the first day, as we welcomed all of the students back to school for the year. It was great to see families catching up in the playground before school and the smiles on the children's faces as they saw all of their friends again. We warmly welcome all new families to our school community and look forward to getting to know you and your children.
As most would be aware, we were severely damaged in the January 5th storm and again when the next storm hit on Friday, January 28th. No staff were able onto the school site until Monday, January 31st. I would like to thank the staff for preparing the classrooms and completing all of the administrative tasks in readiness for the school year in such a short timeframe, it has been an outstanding effort by all to be ready to welcome students back on Tuesday February 1st.
In the first few weeks of the school year, our teachers will be working hard to establish a connection with your child, to help them feel a sense of belonging in the classroom and school. As teachers, we look forward to partnering with you to ensure a smooth start to the school year. To assist with the transition into school, there are things that you can do to help:
Establish a routine for morning and evening - Children respond well to routine and boundaries. Routines with breakfast, reading and homework in the evening will help your child make a settled start to the year. It is important that your child gets to bed on time and gets plenty of sleep - It is recommended that primary-aged children get 9-11 hours of sleep each night.
Arrive on time - The classrooms are open from 8.45 am each morning and the 15 minutes before learning commences is for children to get to know their teacher, spend time with their peers and most importantly, ready themselves for the day ahead.
Keep the weekends quiet for February - Settling back into the rigours of school after the holidays can take some time, especially for younger children during the warmer weather. It's good to give the children some weekend downtime to recharge.
At the commencement of each school year, a large amount of information is included in our newsletters across the first few weeks. Please ensure you read newsletters in full and ensure you respond promptly should you need to complete and return forms to us, so our records can be updated and claims can be made on your behalf in a timely manner. Thank you!
2022 Foundation Class
(Absent: Leo)
Instrumental Music Lessons
Instrumental Music lessons have already recommenced this term, through our external provider Sean Dixon. Sean prefers to deal with students from Year 3 upwards, because their hands are big enough to span the neck of the guitar. Please view the promotional flyer included at the end of this newsletter for further information.
Tuck Shop!
I am pleased to inform you our Tuck Shop will be up and running, as we now have received two parent volunteers to assist with running the tuckshop across Terms 2 and 3. More info to come...
Icy Poles
We will be selling icy poles for $1.00 each in Terms 1 and 4 - note the tuckshop will not run during these terms.
Second Hand Uniform Shop
We thank Bernie Ellul who very efficiently ran our Uniform Shop last year. Due to Bernie's employment this year, she is no longer able to run the Uniform Shop. As such, we now require the services of parent/s or carer/s to assist with the running of our uniform shop. If this is of interest to you, please contact Terry to dicuss further. Thank you!!
School Advisory Council
The School Advisory Council is an advisory body that supports the Principal on a number of matters relating to the education of the students at St. Augustine's. We are looking for one additional member of our parent community to join the Council for 2022. If you are interested, please let Terry know.
Centacare Counselling!
We welcome back Sharalle Raven who will work with our students and families throughout 2022. This service is free and available to St Augustine's students and parents and is made possible through a federal grant. The focus of the support is in providing counselling for children and families during school hours. Parents who wish to access this service will find the necessary paperwork in the office foyer's pigeon holes. Or feel free to speak with your childs teacher, who can put you in touch with Sharalle.
School Website
One of our major forms of communication between school and our community is our school website. We have a school calendar on this site to inform all of what is happening across the year. As you access the site, the calendar will be the first thing you see. It contains the dates for all happenings for the 4 terms as we know them to date. Dates will be added throughout the year as they become known.
The site can be accessed through this weblink- www.sacreswick.catholic.edu.au
Student Mobile Phones
If your child must have a mobile phone for any reason, please note that on arrival at school, the phones need to be given to the classroom teacher, who will lock them away until the end of the day.
Absentees
Please note that it is a requirement that parents notify the school of all instances when their child may be absent for all or part of a day. It is also a requirement that the school contact parents if notice has not been given, so to avoid disruption to your day and adding more to our Admin Officer's day, please inform us of your intentions. The best and easiest way for you to notify the school of absences, is to log into your PAM account and submit the necessary information, which then comes through electronically at our end, however, you will need to ensure the absentee is submitted NO LATER THAN 9:20 am to avoid a phoned call from the school. You can contact the school via phone to report absenteeism also, but note you will need to come in and sign a paper form if you notify us via phone.
School Uniform
We would expect all students to wear the correct school uniform. This means some accessories such as wrist bands, multi-coloured hairbands etc, should not be worn. I ask parents to ensure all items of clothing are clearly named. School shoes must be worn every school day except on students PE day. Please support the staff and your children by insisting that they wear the correct uniform to school each day. If there is a problem, please inform your child's classroom teacher.
Please refer to the School Uniform Policy below.
Covid-19 Requirements
Quarantine Requirements – A student who tests positive for COVID-19 through a RAT or PCR test must isolate for 7 days at home and inform the school that they have tested positive for COVID-19. A negative test result is not required to return to school after completing seven (7) days of isolation.
Close Contacts: A close contact is someone who has spent more than four hours with someone who has COVID-19 inside a house, accommodation, or care facility. A contact at school is not included in this definition unless contact has occurred in a school-based residential setting, such as a school camp. Students who are close contacts must quarantine for seven (7) days (inclusive of weekends) and must not attend school during this period.
Other Contacts: Where a student has been in contact with a case of COVID-19, including at school:
if asymptomatic, students should continue to attend school and monitor for symptoms
if symptomatic, all students must stay/return home, take a RAT, or get a PCR test if a RAT kit is unavailable.
On receipt of a negative test result, and if well enough, the student can return to school.
Rapid Antigen Testing: The Victorian Government has strongly recommended that all students complete twice-weekly RAT at home prior to attending school for at least the first four weeks of Term 1, 2022.
Tests have been provided to families at no cost. Parents, guardians and carers must advise the school if their child receives a positive RAT result and must register the positive result on the COVID-19 Positive Rapid Antigen Test Self-Reporting Form available on the Coronavirus Victoria website www.coronavirus.vic.gov.au as soon as possible.
School Fees
Invoices for the 2022 school fees will be emailed to all families early next week. Please note that payments are expected at least once per term. Payments can be made via direct deposits, cheque or cash, but not via card payment, as we do not have card facilities at school. Please come into the school if you would like the school to set up a direct deposit facility on your behalf. Please refer to the 2022 school fee schedule below. Feel free to contact the school office with queries.
CSEF: Camps, Sports & Excursions Fund
The Camps, Sports & Excursions Fund (CSEF) is provided by the Victorian Government to assist eligible families to cover the costs of trips, camps, sports and excursions.
TO BE ELIGIBLE for a Primary School Student: On the first day of Term 1 (31st Jan 2022) OR the first day of Term 2 (26th April 2022), a parent or legal guardian of a student must:
Be an eligible beneficiary of one of these cards: Veterans Affairs Gold Card, Centrelink Health Care Card or Pensioner Concession Card
OR they must be a temporary Foster Parent
AND the parent/legal guardian must submit an application form by the due date
Parents who receive a Carers Allowance on behalf of a child, or any other benefit or allowance not income tested by Centrelink, are not eligible for the CSEF, unless they also comply with the above. Eligibility will be determined when the parent's concession card successfully validates with Centrelink on either the first day of Term 1 or Term 2. If the eligible card is in the name of the student, the fund is only granted to that student, not to their siblings.
For the purpose of CSEF, students may be eligible for assistance if they attend a Victorian Registered primary or secondary school. Typically, these students are aged between 5 & 18 years. CSEF is not payable to students attending Kindergarten, TAFE or who are home schooled.
CSEF Applications for 2021 are now open. Payment amounts are: $125 per year for eligible primary school students, payments are made to the school and are tied to the student. NOTE that if you applied for CSEF last year, you do not need to complete an application form for 2022, unless there has been a change in your family circumstances. You only need to complete a new application form, if any of the following changes have occurred:
* New Student Enrolment - commenced school in 2022, changed schools in 2022 or you did not apply in 2021; or
* Changed family circumstances - change of name, change of custody, concession card number or new siblings commencing in 2022.
If you are eligible, you can either complete the attached Application form and email it, along with a copy of your Health Card/Concession Card to (admin@sacreswick.catholic.edu.au) OR drop into the office to complete a paper form - ensure you bring your card with you for proof of eligibility. Note that Application forms need to be completed and lodged ASAP as payments are made in March. Schools will be able to accept and process applications up until the end of Term 2.
Family Fee Assistance Scheme
The 'Family Fee Assistance Scheme' continues in 2022 across all Ballarat Diocesan Catholic Primary Schools. This Scheme offers a tuition fee concession to families who hold a Health Care Card or Pension Card. Families who qualify for the CSEF will also qualify for this Scheme and will receive a reduction in school fees if eligible. The discounted fee covers tuition and capital fees only. It does not cover additional charges such as camps, book hire, subject levies, etc. A copy of the Application Letter is attached below, it can be completed and emailed to: admin@sacreswick.catholic.edu.au or feel free to drop into the office to complete the Application letter and for further information about the Family Fee Assistance Scheme. Please bring your card for proof of eligibility.
Conveyance Allowance
Conveyance Allowance is available to eligible families to assist with the cost of transporting students to school. Distance is measured by the shortest practicable route between the student's place of residence and their school. An Application form is attached below or you can come into the office to collect the Application form. To be eligible, student/s must:
Attend the closest school of the chosen denominational group;
Be of school age (5 to 18 years old at the time of application) and reside in Victoria;
Live 4.8kms or more from the school measured by the shortest practical route;
The residential address should be based on the Rural Road Numbering System. Mailbox & PO Box addresses cannot be used;
Must attend an eligible school within the conveyance area;
Families applying for the Conveyance Allowance for 2022 PLEASE NOTE:
Parents who successfully applied and received the Conveyance Allowance in 2021 are not required to complete a new application unless their details have changed.
All Applications MUST be returned no later than Friday 11th March, 2022.
Parents/Guardians are responsible for notifying us with any change to the information noted on previous School Conveyance Allowance Application Forms within 7 days of changed circumstances!
Four payments for 2022 Claims will be made towards the end of each school term. Please note that due to Government guidelines, no claim is allowed to be paid without the appropriate documentation. Submission closing dates for 2022 are:
TERM 1: 11th March - TERM 2: 27th May - TERM 3: 19th August - TERM 4: 18th Nov.
Student Medical Information
Please keep the office advised on any changes to a medical condition that your child may have. Staff have been provided with background information on children who may have a severe medical alert concern. Please ensure emergency medication has been updated. Children with severe allergies must have a current plan signed by your GP. Also note that all students must have their Annual Medical Information completed on PAM as soon as possible. If you have any queries regarding accessing PAM, please phone the school.
Making PAM (Parent Access Module) a Shortcut on your iPhone
Please use the instructions below to create a shortcut on your iphone to the PAM module, which will enable more efficient access to PAM. Parents will be able to view and update: Medical Information, Attendance, Excursion Activities (grant permission), School Reports (electronically at the end of each semester). If you have any issues accessing your account, please phone the school for assistance.
To add a PAM shortcut to your device, go to your home screen on your iPhone and follow these below steps:
Step 1: Type https://pam.sacreswick.catholic.edu.au/Login into your browser. Enter your username and password. Log in. Click on the square/arrow box (circled below).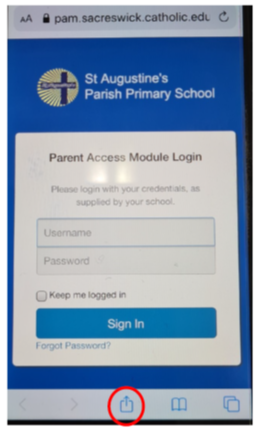 Step 2: Click "Add to Home Screen" (circled). You may need to scroll across the bottom to find this.
Step 3: Name the shortcut (PAM St Aug's) Done! It should now be on your home screen.
Physical Education News 2022
Welcome to Term 1 2022 of PE. This year we are going to try and give the children as many opportunities as possible to be involved in sports.
Cross Country
This term we have the Goldfields cross country on the 1st of April in Clunes. This will be offered to all students from Years 3 to 6. Year 3 & 4 Students will need to be able to run 2 kms and 5 & 6 will need to be able to run 3kms.
To qualify to be able to compete in this event students in Year 3 & 4 will need to run 10 laps and Year 5 & 6 will need to run 12 laps of the small over over the road non stop to qualify.
This ensures that the students who do go will be able to complete the course on the day. Once we have selected the students who will attend this event we will have training during lunch time in the lead up to the event.
Try outs will be in the coming weeks and I will give the students a heads up as to when that will be, I will do this via seesaw and the Monday morning assembly.
Netball - after school
I am currently seeking expressions of interest from students and parents for the after school netball competition. To make this a success, I will be asking for some parents to volunteer as coaches who will support the students when they are playing at Llanberris.
The current comps are as follows:
Foundation -Year 2: NETTA Comp Friday afternoons
Years 3 &4 and Years 5 & 6: Tuesdays and Wednesday Afternoons
There will be a mixture of both girls teams and mixed teams if there is enough interest. If you could please email me if your child is interested or if you are interested in coaching a team. If we do not get enough parent volunteers we will not be able to enter a side for that age group.
lmorris@sacreswick.catholic.edu.au
We need to submit our teams by the end of March so it would be great if you could let me know by Friday the 11th of March. I will be in touch with any families that express interest in playing or helping out.
Thank you in advance and I look forward to a year where we are playing sport and being as active as we possibly can be.
Mrs Louise Morris - PE Coordinator
Dates to Note:
FEBRUARY
Wednesday 9th: Foundation Students Rest Day
* Tuesday 15th February: STUDENT FREE DAY due to whole Staff PD
Wednesday 16th: Foundation Students Rest Day
Friday 18th: Photo of Foundation students being taken by the Courier
Wednesday 23rd: Foundation Students Rest Day
MARCH
Tuesday 1st: Shrove Tuesday
Wednesday 2nd: Ash Wednesday
Wednesday 2nd: Foundation Students Rest Day
Wednesday 9th: Foundation Students Rest Day (last rest day)
* Thursday 10th: STUDENT FREE DAY due to whole Staff PD
* Friday 11th: STUDENT FREE DAY due to whole Staff PD
Monday 14th: PUBLIC HOLIDAY
Tuesday 15th: Foundation students commence 5 days per week
APRIL
Friday 1st: Goldfields Cross Country - Year's 3 to 6 only
Friday 8th: Last Day of Term 1
Tuesday 26th: Term 2 commences
Thursday 28th: Whole School Photo day
Also note the below two dates when our school will be conducting Professional Development and will therefore, be closed on the following days later this year:
Friday 12th August
Monday 31st October