Newsletter: Term 2, Week 2- Thursday, 5th May.
COVID Update
The Victorian Government has announced some important changes to COVIDSafe measures for schools that will apply from the start of Term 2.
Face masks
From 11:59 pm Friday 22 April, face masks, while recommended, are not required in any school setting. This means students in grades 3 to 6, staff and visitors in primary schools are no longer required to wear face masks. Any student or staff member who wishes to wear a mask may do so, including those who are medically at risk.
Screening requirements
Students who have tested positive for COVID-19, and have completed their 7-day isolation period, now do not need to undertake rapid antigen test (RAT) screening for 12 weeks after their release from isolation. This was previously 8 weeks.
Household contacts
Students who are household contacts of a COVID-19 case are not required to quarantine. They may return to school as long as they undertake rapid antigen tests (RAT) 5 times during their 7-day period. They are required to notify the school that they are a household contact.
Students aged 8 years and above who are household contacts are required to wear face masks when indoors at school unless they have a valid exemption.
If a student household contact returns a positive RAT result, they must isolate for 7 days.
Vaccination requirements for visitors to schools
Parents, carers and other adult visitors (not performing work) are no longer required to show evidence of two doses of COVID-19 vaccine.
RAT screening program reminder
The testing recommendations will remain the same this Term for students and staff with to test at home twice a week. RATs were sent home on Wednesday. Should you have not received yours please contact our office.
Notification of Positive Cases at School
Parents and carers will continue to be notified of positive cases in their child/children's classroom via the Seesaw app.
Happy Mother's Day
Wishing all our mums, grandmothers and special friends a very happy day on Sunday 8th May. We pray for our mums, grandmothers and motherly figures who are no longer with us or unable to be with us.
A Mother's Love
There are times when only a mother's love
Can understand our tears,
Can soothe our disappoints
And calm all of our fears.
There are times when only a mother's love
Can share the joy we feel
When something we've dreamed about
Quite suddenly is real.
There are times when only a mother's faith
Can help us on life's way
And inspire in us the confidence
We need from day to day.
For a mother's heart and a mother's faith
And a mother's steadfast love
Were fashioned by the angels
And sent from God above.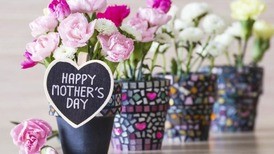 ANZAC DAY
Monday, April 25th was ANZAC Day, an important day on our nation's calendar. Whilst it is a day to recognise all servicemen and women and remember the sacrifice that so many of them made for their country, it is also a day of great national pride and a time to be grateful that we live in this wonderful country of ours. Thanks to Milla and Alexa for reading the poem and Cohan and Jack for laying the wreath.
A Prayer for ANZAC Day
God of love and liberty, we bring our thanks this day for the peace and security we enjoy, which was won for us through the courage and devotion of those who gave their lives in a time of war.
We pray that their labour and sacrifice may not be in vain, but that their spirit may live on in us and in generations to come.
That the liberty, truth and justice which they sought to preserve may be seen and known in all the nations upon earth.
This we pray in the name of the one who gave his life for the sake of the world, Jesus Christ our Lord.
Amen.
Winter Uniform
It is expected that all children will be wearing winter uniforms by 9th May which is the first day of Week 3.
NAPLAN
NAPLAN assesses the literacy and numeracy skills that students are learning through the school curriculum and allows parents/carers to see how their child is progressing against national standards and overtime. NAPLAN, for our school, starts on Tuesday 10th May and finishes on Friday 20th May.
Parents and Friends Meeting
We will be having another meeting of like-minded parents on Thursday, May 12th at 3.45 to plan what 2022 might look like going forward. We have already decided to be a less formal group changing from a small number of parents doing all the work, to opening up for all to volunteer to help out on one or two events across the year.
Assemblies
Assemblies are back and are open for all to attend. They will be held on a Friday afternoon beginning at 2.45 pm.
May 20th Year Six
May 27th Year Five
June 3rd Year Four
June 10th Year Three
June 17th Year Two
Sensical TV
Finally. A safe kids video haven is here and it's free!
Common Sense  Media is the leading source of entertainment and technology recommendations for families when it comes to reviews and objective advice for all digital media, including tv shows, apps and games.
Sensical.tv by Common Sense Media allows children to safely explore thousands of videos across tons of safe, age-appropriate channels built around the topics kids love. Sensical TV has a huge array of educational topics and, for those kids who love 'youtuber' style content, you'll find videos that include tutorials for arts, sports tricks, games, hobbies and robotics!
What can kids watch on Sensical TV?
Whilst you won't find popular brands on Sensical TV, such as Disney or Nickelodeon child-friendly content, you will find some awesome children's branded content such as:
Minecraft
Thomas and Friends
Sesame Street Studios
The Wiggles
Kidz Bop
Mother Goose Club
Babar
Barbie Vlogs
Hot Wheels
Story Surprise
Safety by Design
Sensical TV has Member Status with KidSafeCOPPA which means that the product has been independently reviewed, certified, and/or listed by kidSAFE to meet certain standards of online safety and/or privacy.
The ParentZone dashboard allows guardians to create safe profiles for multiple children in your home. It allows you to review the content your children have watched and has parental controls to set time limits that help you kids follow your family's Digital Use Agreement. A PIN will be set so your children cannot change their own settings.
How does Sensical TV collect, store and use our family's information?
Sensical TV is still an online tool so supervision is always important. When signing up for your parent account it will collect your child's first name only (we still recommend using a nickname to model safe online profile names).
We also noticed a clever, safe way Sensical TV tracks your child's age range. When you set up your child's profile, the program will ask for your child's age and birth month, but they do not request a birthdate. We love that they have found a way to provide ongoing age-appropriate content for each user without asking you to share your child's personal details!
Whilst as parents/carers you can enjoy the peace of mind that the platform is safe, it's important to note that advertisements do still appear on Sensical TV. Ads are an expected online experience, so this is a great way to start the conversation about advertising with your children. Common Sense Media have a great educational resource with 4 Tips for Making Kids Ad Savvy!
Sensical.tv is currently launched for web view on desktop computers and laptops for Australian families.
.
NCCD Update
Uniform Shop
Little Feet Big Footprints
Wellbeing Update