Newsletter: Term 3, Week 6
Dates to Remember:
From the Principal:
St Augustine 354-430
We celebrate St Augustine's feast day on the 28th August his brief biography is below
St Augustine was an influential Christian theologian from Numidia (modern-day Algeria). Augustine converted to Christianity in 386 and wrote extensively on Christianity.
Augustine was born in Souk Ahras in the Roman province of Numidia. His family were ethnic north Africans (the Berbers), but the area was heavily Romanized, and they spoke Latin at home. His father was a pagan, but his mother was a devout Christian.
His mother had a strong influence on the young Augustine, he developed an interest in philosophy and was impressed by the writings of Cicero. Augustine became an expert in Latin and rhetoric.
In 384, he was given a more prestigious position as a rhetoric professor at the Imperial Court of Milan. He also became friendly with Ambrose the bishop of Milan. Augustine listened to the more sophisticated lectures of Bishop Ambrose, and he gained new insight into Christianity. This friendship and the genuine spirituality of Ambrose was influential in re-awakening Augustine's interest in Christianity – the religion of his childhood.
In 386, at the age of 31, he made a formal conversion to Christianity.
In 391, he became the Bishop of Hippo and for the next 39 years became an influential preacher.
In the last half of his life, Augustine was noted for his piety – shunning his former lifestyle and living a life of simplicity and devotion. He also continued to write. Important works included 'City of God' which was written in response to the sack of Rome and argued the real religion was in spirit and not in temporal cities and the religion of the world.
Augustine was also an influential in the development of education practices. He advocated a more liberal approach to education. Combining discipline with teachers who can share an interest in the subject and encourage students to develop a critical awareness and think for themselves.
As one of the last great Christian theologians before the dark ages of the Medieval Period, Augustine was very influential on the development of Christianity.
He was canonized in 1298 by Pope Boniface VIII.
Engaging in Book Week at Home
Get ready for Book Week 2022.
This year we will celebrate on 26th August with a BANG with our much anticipated Dress Up Parade. Put those thinking caps on, as you begin to prepare costume ideas for your favourite book character.
Students have a lot to look forward to, as teachers are busy building anticipation by reading a selection of texts that have been shortlisted by the CBCA.
If you're looking for fun reading activities to do with your child at home, then getting excited in the upcoming Children's Book Week is the perfect time to have a go. These suggestions created by Twinkle, may help out for ideas;
For a special treat, why not find a new and exciting place for your child to read? They could take a book to the park or read in a tent or a homemade shelter in the house or garden. Reading by torchlight can make this even more fun.
Reading isn't just about traditional books. It's great for your child to read whatever they can lay their hands on. Joke books, advertisements on billboards, cookery books - to name but a few. Wordless books are fabulous too.
You could also encourage your child to act out scenes or characters in their favourite book. How does that character talk? How do they move? Or, perhaps your child would like to reimagine the story, maybe dressing up or using their own choice of props?
You could write a book review together, which might include thinking about who the book is aimed at and whether they'd recommend the book and why.
Child Safety
As advertised in previous newsletters, the eleven new Child Safe Standards have come into effect in all Victorian schools.
The standards are as follows:
Standard 1 – Organisations establish a culturally safe environment in which the diverse and unique identities and experiences of Aboriginal children and young people are respected and valued
Standard 2 – Child safety and wellbeing is embedded in organisational leadership, governance and culture
Standard 3 – Children and young people are empowered about their rights, participate in decisions affecting them and are taken seriously
Standard 4 – Families and communities are informed, and involved in promoting child safety and wellbeing
Standard 5 – Equity is upheld and diverse needs respected in policy and practice
Standard 6 – People working with children and young people are suitable and supported to reflect child safety and wellbeing values in practice
Standard 7 – Processes for complaints and concerns are child focused
Standard 8 – Staff and volunteers are equipped with the knowledge, skills and awareness to keep children and young people safe through ongoing education and training
Standard 9 – Physical and online environments promote safety and wellbeing while minimising the opportunity for children and young people to be harmed
Child Safe Standard 10 – Implementation of the Child Safe Standards is regularly reviewed and improved
Standard 11 – Policies and procedures document how the organisation is safe for children and young people
Year Six Leadership
Our year six students continue their leadership journey when we visit St Michael's, Daylesford this week.
Little Feet Big Footprints
Day 4
Thursday 18th August, St Michael's Daylesford
9.45am - Arrive
10am - Welcome to Country (Indigenous Garden) St Pat's indigenous students to lead.
10.45am - Snack & playtime
11.15am - Reflection on LFBF journey to date
11:30am - Students gather in Secondary School groups for a scavenger hunt.
12:15pm - 1:35pm - Project groups and sharing from each group
1:35pm - 2:15pm - Lunch
2:15pm - Home
Stellarphant
Stellarphant by James Foley
Stella the elephant is fighting interstellar discrimination one pachyderm at a time! Stella wants to be an astronaut. There is only one problem: Stella is an elephant. Every time she applies to Space Command, they come up with a new reason she can't join. But where there's a will, there's a way and Stella is determined to reach for the stars.
The Meerkat production team visited our school last Monday and presented their version of James Foley's book in the form of an interactive play. It was a fantastic session with staff and students captivated by their adaption of the book.
100 Days in Foundation
The students celebrated 100 days of school on Monday 1st August; as a special treat, they were invited to wear their pjs to school. The students completed activities centered around the number 100, such as how many times they can write their name in 100 seconds and sorting items to make 100. The students received a certificate and a packet of smarties to acknowledge how they are 100 days smarter!
100 Years in Foundation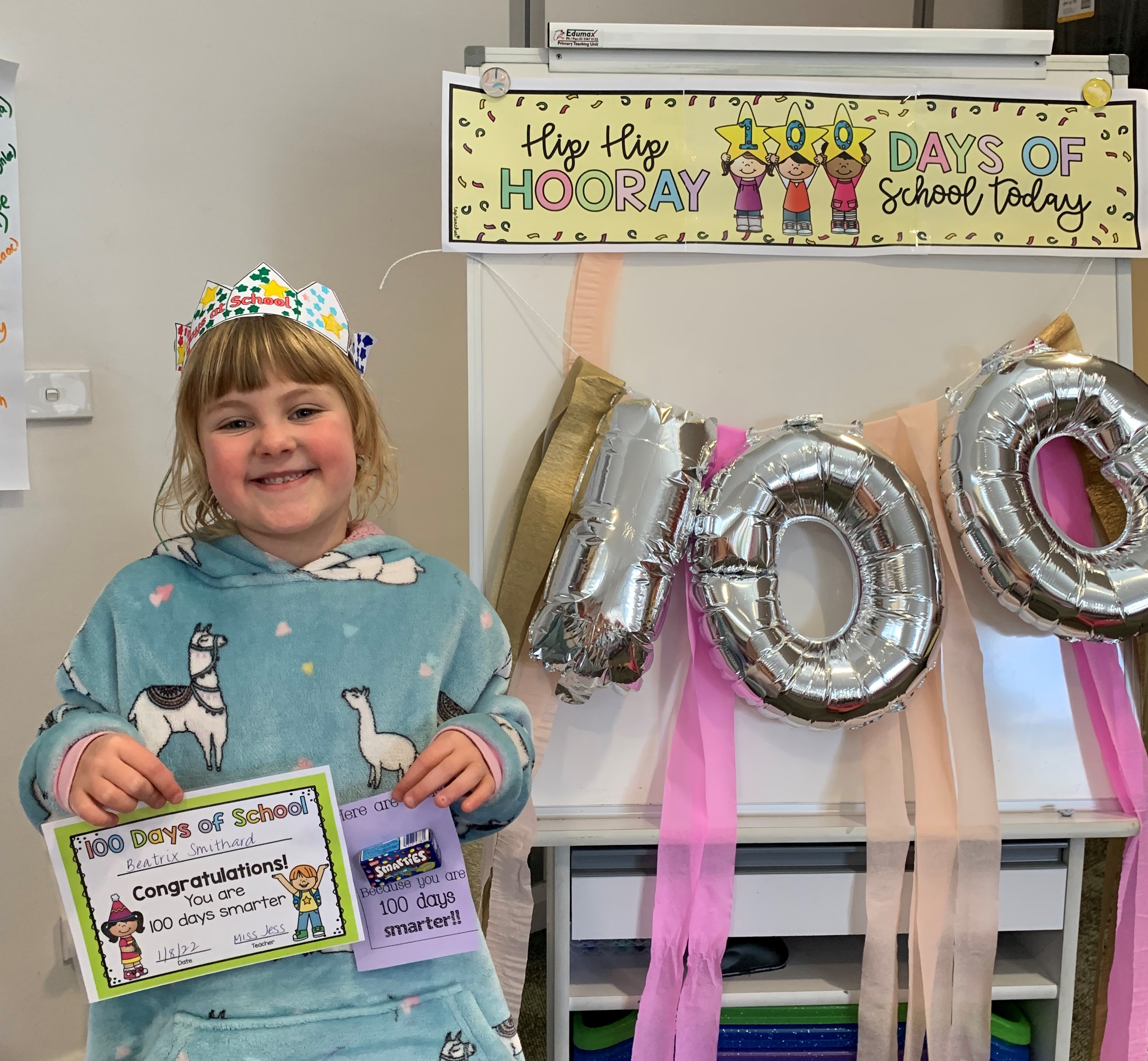 SRC Events
The SRC has been very busy planning activities to take place across this term.
Coming up first is the Bookweek Parade scheduled for Friday 26th August. Then follows a very special day where we find out just who has the talent when we host "St Augustine's Got Talent" on Monday 5th September, finishing off the term with a" Footy Colours Day" scheduled for Friday 16th September.
Father's Day
We have locked in a day to celebrate Father's Day, which will be held on Friday 2nd September. The day will commence at 9.15 and finish around 11.00 am. So put that day into your diary, and we will see all of our dads or dads stand-ins ready to celebrate what is special.
Wellbeing:
Kinship Care Services:
Community News: