Term 4, Week 4: Thursday 29th October, 2020
From the Principal's Desk
Book Week
Last Thursday, we celebrated Book Week. The children looked fabulous in their favourite character clothing, and they certainly enjoyed showing off their special effort, even if it was less formal than in previous years. Book Week focuses on the Children's Book Council award-winning books, and Book Week aims to encourage children to read and to develop a love of literature. This year's theme was "Curious Creatures, Weird Minds."
My sincere thanks to Katrina McLachlan and her staff from the Creswick Library for coordinating the Book Week activities. The library staff produced a video reading aloud to our students. They supplied arts and craft materials and video demonstrations to enable our students to create characters from this year's shortlist and they sorted and bagged each activity into individual class packs. Our students and staff very much appreciated their efforts.
Many thanks to families and students for your participation in this event, all looked amazing. Having activities such as this has an incredibly positive effect on our children's mental health and wellbeing. Photos of our students dressed up are included further on in the newsletter.
School Photos
I am delighted to announce that our School photos are back on as scheduled to be held on Monday 9th November. Please ensure all children are in full summer school uniform on this day. Fingers crossed we can proceed with this as planned!
Covid-19 Testing Requirements
If a child or family member is tested for Covid-19, then all family members must remain at home until the test results come through. Children cannot be at school if they or a family member are waiting on pending results. It could have disastrous consequences for the school if a positive case is confirmed and children have been at school. We would need to close the school immediately for two weeks for a deep clean and return to online learning. I am sure no one in our community would want this to happen. So, I please urge all community members to do the right thing and follow protocols. Please also ensure that if your child is feeling unwell that they stay home. As you can appreciate, staff are experiencing this pandemic the same as all community members. If a child is coughing or sneezing in the classroom, it can cause much uneasiness and concern for all involved. If you are asked to collect your child from the office if they are unwell, please ensure you do so promptly. Thank you.
Australia will celebrate and thank the teaching profession on ​World Teachers' Day - Friday 30th October​.
Teachers (with support from parents and carers) have ensured education continues across the country this year, despite significant challenges. It's reinforced the considerable role teachers play in the lives of children and students, their families and communities. On Friday 30th October, I will say a big thank you to our teachers on your behalf. (World Teachers' Day is held internationally in early October. As it falls during the school holidays for many parts of Australia, we celebrate it a little later.
Supporting Your Child
We see some interesting responses from our students as they settle back into a regular school routine. They are showing very different feelings about the return to school. These feelings will most likely change as the weeks go on. Here are a few points for you to consider how you can best support your child as we all become settled back at school. Please refer to these points over the next couple of weeks.
Give your child knowledge about what is going to happen: Discuss what is going to be different in a positive way. Things like we enter through the front gate or rear gate, adults can't come onsite at the moment, but some teachers will be there waiting for you, you wash your hands often, but that's good because it keeps us healthy.
Let them share their feelings and acknowledge these: This is a good time for children to be reminded that feelings of apprehension and nerves are normal. Listen to them, validate their feelings and help them make a plan of what to do if these feelings become overwhelming or give them information that may help them with concerns they have.
Establish routines and prepare: Ensure that regular sleeping patterns are encouraged. Establish bedtimes and morning waking that allows for well-rested children. Remind younger students about their lunch boxes, what they eat and how to fit it into their bag. Get out school uniforms over the weekend so that they are located, clean and ready for Monday to reduce worries on Monday morning. Please remember if items don't fit we understand, send us along a note explaining.
Listen and be present: Give children the time to discuss their day with you, share their experiences and highlights. Allow them to process their days in whatever way they need to. If your child doesn't like to talk think of another way you can connect each afternoon so that they know you are there with them as they transition, maybe read with them, shoot hoops, go for a walk, play a game, cook dinner together. Often when doing these activities with trusted adults, this is when children share.
Communication with the school: Keep working in partnership with your child's teacher. Share any concerns or worries that you are having trouble helping guide your child with or also share highlights your child has experienced.
Please remember children's feelings can be very much guided by what their trusted adults are feeling. Positively approach the coming weeks with your child, answer their questions, listen to their worries and share their excitement and seek help from school staff if required.
We are so happy to have everyone back together at school! (source unknown)
Great news - Mass is back on!
Details: Indoor religious gatherings: Allowed for up to 20 People Plus 1 faith leader. So this means that no extra people allowed to assist with the service such as sacristan, greeters, readers, data projection, etc. Hopefully each week the 20 people will include those that can help out with these duties.
Mass Times:
Creswick - Friday at 12:00 noon (commencing this Friday 30th October) and Saturday at 5pm (commencing this Saturday 31st October)
Daylesford - Thursday at 10:30am (commencing Thursday 5th November) and Sunday at 10am (new time and commencing Sunday 1st November)
All parishioners must wear a mask (unless medical condition prevents you from wearing one); social distancing must be observed and hand sanitiser used. Please call the office to register to attend Mass - Phone: 5301 8161
Wellbeing News!
Congratulations to: Sophie Howkins, Indie Norris, Zachary Franklin, Chase Tippett, Edward Swan, Oscar Preston, Charlotte Fawcett, Isaac Taylor-McMartin, Angus Bullen, Gurnoor Chahal, Mabel Barrett and Lily Bennett - for receiving the St. Augustine's Value Award for Courage.
Graduation Bear/Balls
Graduation bears/balls (football or soccer) can now be ordered. Large Bears $13.60 each (height seated 31 cm / height standing 45cm) OR small Bears (height seated 23cm) $9.50 each. Balls are $9.50 each. All items come with a quality permanent marker. Note that we are currently setting up a new payment system called CDFPay, please refer to details regarding the new payment system within this newsletter to order and pay for these items.
CDF Pay - a new payment System!!
We have been investigating ways to streamline administrative processes, eliminate cash management and provide our school community with the convenience and security of a one-stop shop for all areas needing payment to be managed - other than school fees. In doing so, we have decided to run with a new payment system called CDF pay. Our aim is to have this system fully implemented for the 2021 school year, as it will allow for payments to be made for other aspects of school such as: Tuck Shop, Uniform Shop, special events/days held at school, ordering of graduation bears/balls, etc. Note that Qkr has now been scrapped, so you can delete this App, as Tuck Shop will not run for the remainder of 2020 and CDF pay will be used for Tuck Shop in 2021. Please refer to the flyer with regards to uploading this App. Note that not many functions will be available until 2021. We will keep you informed as more functions within CDF pay become available to use. If you have any questions, please contact Mandy.
Specialist Classes!
Students attend three specialist classes for one hour per week, they are: Art, PE/Health and Japanese. Students look forward to these classes every week, so we ask you to seriously consider making any necessary appointments for students, outside the specialist class days/times to avoid interruption. Thank you!
Please note the Specialist Classes timetable below:
- Junior students (Foundation - Year 3) each Thursday from 11:45 am to 3:15 pm
- Senior students (Year's 4 - 6) each Wednesday from 11:45 am to 3:15 pm
Go Local First Campaign!
The Hepburn Shire Council is currently supporting a national campaign called 'Go Local First'. The campaign is a call out to local people to support local businesses. Please visit the following link for further information: https://www.hepburn.vic.gov.au/go-local-first/
Book Week
Our Book Week dress-up day was held on Thursday 22nd October, with the theme of Favourite book character. Thank you to everyone for putting in so much effort, the children looked amazing, as you can see from the attached photos!
FOUNDATION CLASS: During Book Week the Foundation students listened to a reading of "My friend Fred" courtesy of the Hepburn Library. They then made Fred or his friend the cat. These are the pictures of their cats and dogs.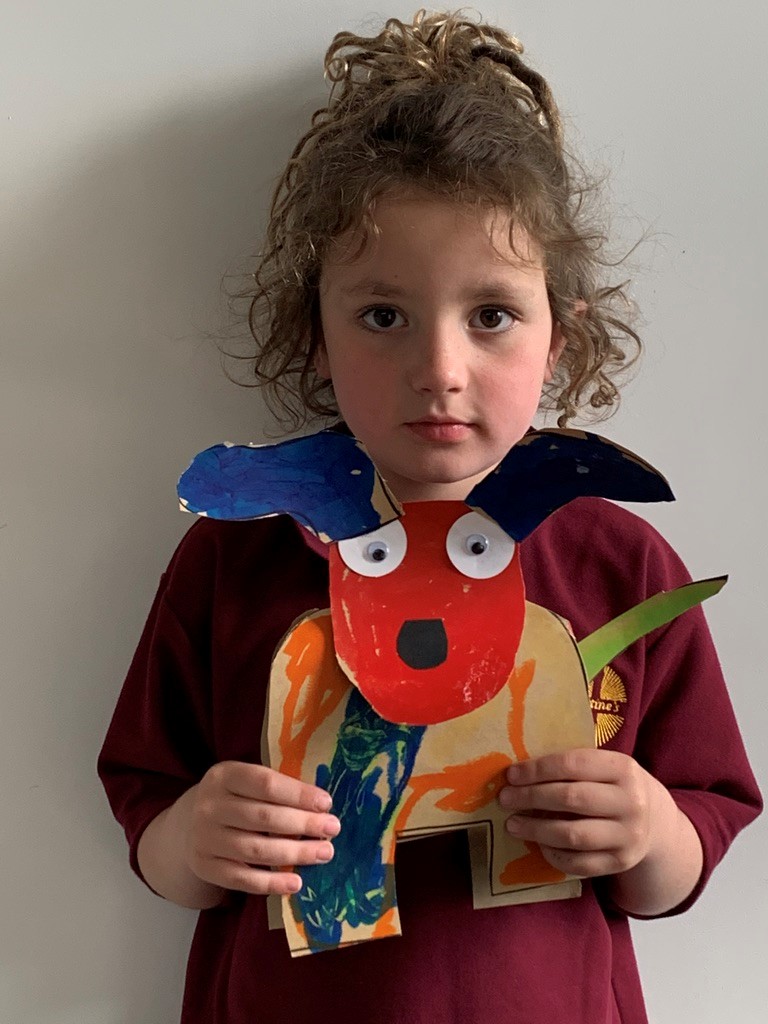 OTHER BOOK WEEK PHOTOS:
Orientation Day
Orientation day will be held on Tuesday 1st December, 2020. Due to COVID, changes to how we normally run this day have had to be made. We will run 2 sessions for our 2021 Foundation students, details are:
Session 1: 9:15 am to 10 am
Session 2: 10:15 am to 11 am
Emma Paterson (2021 Foundation Teacher) will personally contact each family via zoom between 23rd November and 1st December, to ensure families and students feel comfortable and have all the information they need, prior to attending an orientation session. Terry Brennan and Emma will also run a bulk zoom meeting for all 2021 Foundation families on Tuesday 1st December between 3:45 pm and 4:15 pm, to discuss 2021, along with answering any questions parents may have. Details for this will be emailed to the families concerned. Unfortunately, as it stands today, our Year 6 students will be unable to visit secondary schools on this day.
Final Reminder regarding changes to Paracetamol Protocol
For students who have already been granted parent approval for paracetamol via the annual Medical Form completed through PAM, we remind you that for instances where students at school do not need to be sent home, but require paracetamol for headaches, toothaches, etc. we will no longer be contacting parents who have already consented to administer pain relief. Should any child be given pain relief while at school, parents/carers will either receive an SMS or a slip, outlining the details of what was given, time it was given, reason and staff member who administered the paracetamol. We will continue to contact any parent who at this stage, have not consented for their child to be given paracetamol, should the need arise. Please ensure you keep us informed of any changes to student medical information as soon as they occur!
Pictures from the Art Room!
Here are some more wonderful pieces of art work created during home learning! Mrs P.
Second Hand Uniform Shop News
Hello All, it is hard to believe that we are into Term 4 and Summer Uniform!
The 2nd Hand Uniform Shop continues to operate under the protocols that we outlined to you back in Term 3. Please be assured that we are doing everything we can to adhere to the policies of the school to keep our community safe.
Uniform can be viewed by appointment. If you would like to make a time to view and purchase uniform, please contact me and I will book a time that is suitable. Once there is a change to restrictions, I will return to having "open" times, but at this stage this is still not possible.
With our upcoming orientation day on 1st December, we are in now need of uniform items in small sizes. However, all sizes are welcomed, so if you have any items that are no longer needed in the cupboard at home, please consider popping them into the uniform shop - thank you! Ensure items are clean and each item has a uniform sales slip attached (these are available in the office foyer) and drop the items into the office when convenient, to be placed ino the uniform shop.
I can be contacted via text message on 0429 130 672 if you have any queries or wish to arrange an appointment time.
Best wishes, Narelle Barrett.
Term 4 Dates:
NOVEMBER:
Monday 2nd: Student FREE DAY - Staff PD
Tuesday 3rd: Melbourne Cup Public Holiday
Wednesday 25th - Friday 27th: Year 6 Camp
DECEMBER:
Tuesday 1st: Orientation Day (SESSION ONE: 9:15 - 10 am & SESSION TWO: 10:15 to 11 am)
Thursday 3rd - Friday 4th: Year 4 Camp
Friday 11th: Year 6 Fun Day
Monday 14th: Last day for students
Tuesday 15th & Wednesday 16th: Numeracy Testing days for students
Thursday 17th: Staff Planning Day
Friday 18th: Last day for Staff
NOTE 2021 DATES:
Wednesday 27th January: Staff first day - planning, etc.
Thursday 28th January: Students commence
(NOTE: as closure days for testing can no longer take place, students will return to school on Thursday 28th January, 2021. All testing will occur while students are at school).
Secondary Schools - 2022 Enrolment Info
Damascus College - Scholarship 2022
Application forms for the Damascus College Scholarship are available from the office.