Newsletter: Term 4, Week 11
From the Principal
As this school year closes and upon reflection, I am very proud of the many achievements and events our students and school community have enjoyed and the countless opportunities that have enriched our lives - spiritually, academically, emotionally, physically, and creatively.
This was another busy year, and as partners in education, everyone played a significant role in making it a success. It is hard to believe how quickly the school year has passed, and I would like to thank you for your faith, trust, and commitment to the mission of St Augustine's. It is your belief in Catholic education values that help us to sustain our school. We respect each family's sacrifices to send their child/ren to St Augustine's, and we continue to put your child first in everything we do.
I especially thank Fr Justin Driscoll, our Parish Priest, for his support and encouragement throughout our school and parish activities.
The St Augustine's staff always work tirelessly to create a continuous and exciting journey of learning for all our students. Teachers steadily build upon the early foundations of learning to create an inquiry and questioning approach to learning. The Support Team of ISO's, teachers, and parent helpers further supports classroom teachers and students in providing focused and intensive learning sessions across the school.
Across all year levels, the inclusion of technology into the learning day has been an engaging and powerful tool for our students. The 1-1 chrome books for our years three, four, five, and six students and the use of ipads for all our junior students ensure that technology is indeed a relevant tool to support learning at St Augustine's, preparing our students for high school and life.
Our balanced curriculum allows our students to enjoy a multitude of learning experiences. The classroom- based programs are enhanced with Visual and Performing Arts, Japanese language and culture, and Physical Education Classes.
Our school is blessed with people caring for the students and their families. The teachers, education assistants, canteen, uniform shop, and grounds staff work professionally, with a great sense of dedication and pride in a team environment exceeding all expectations, both within and outside the classroom. Thank you to the hard-working and dedicated staff for all they have done this year.
Thank you to Karen Williams, our Admin Officer. The warm, friendly and helpful welcome our families receive is remarked upon regularly. As a Finance Manager who leaves no stone unturned and whose motto, 'This will not get the better of me', has worked so hard this year ensuring that all is above board and moving along nicely.
Thank you to our Assistant Principal, Jess Reynolds for supporting all members of our community - students, staff, parents, and especially me. You go above and beyond so graciously in all that you do. I sincerely thank you for your invaluable and innovative contribution to the management of the school and the well-being of staff and students.
During the year, our school has continued to receive the support of parents through various types of help in the classrooms and the School Advisory Council. Without this support, expertise, and commitment, our students would not enjoy the many benefits that we provide. I am very grateful for this partnership between parents and the school to create the best possible environment for our students.
Thank you to all the School Advisory Council members for your support, advice, and commitment throughout the year. These are dedicated people who offer their time and expertise to our school community.
To all members of our community - Father Justin, school staff, parents, and students - thank you for your tremendous hard work throughout the year. I feel very privileged to be part of such a wonderful community
I sincerely wish everyone a happy holiday break and a peaceful and Holy Christmas with your families.
Terry Brennan
Principal
STUDENTS LAST DAY TOMORROW,
FINISH AT 3:15pm
It will be a casual clothes day for the students with a gold coin donation going to local Christmas appeals.
Your child's Semester 2 report will also be available on PAM at the end of tomorrow.
We wish all of our St. Augustine's community a very happy, safe and Holy Christmas and a wonderful holiday season.

Thank you for supporting our school this year and for working with us to ensure that all of our students have learned and laughed along the way. We hope to see everyone back again at the end of January for another successful year. Merry Christmas!
Dates for 2023
Term 1 begins, All students return- Monday 30th January
Foundation Rest Day- Wednesday 1st February
Foundation Rest Day- Wednesday 8th February
Foundation Rest Day- Wednesday 15th February
Foundation Rest Day- Wednesday 22nd February
Foundation Rest Day- Wednesday 1st March
Foundation Rest Day- Wednesday 8th March
PUPIL FREE DAY- Friday 11th March
PUBLIC HOLIDAY- Monday 13th March
Last day of Term 1- Thursday 6th April
Awards 2022:
Congratulations to the award recipients for 2022:
Strength through gentleness Award: Alexa Novak, Yr. 6

Havilah Lodge Award: Cohan Montano, Yr. 6
Hepburn Shire Council Award: Christian Abadilla, Yr. 5
Catherine King Community Award: Anna Schlooz
Bendigo Bank Award: Will Grant, Yr. 6
LOTE Award: Max Clohesy, Yr. 6
Sport Award: Isla Keating, Yr. 6
Art Award: Charlotte Fawcett, Yr. 6
Goodbye to Families:
Changes to PAM Accounts:
PAM Accounts for 2023:
Dear Parents,

In January 2023, your PAM account will be undergoing a major upgrade to provide greater security and other improved functionality.
During the week of the 16th of January 2023, your current PAM account will cease to function.
New PAM accounts will then be created by our school, and you will receive an email asking you to create new credentials for a new PAM account.
This will be as simple as:
clicking on the link provided in the email
following the prompts to create a new password for your new account.
Your username will be your email address.
Your PAM interface will not look any different, but you may receive an account per parent if you were previously sharing an account with your spouse.
If the parents both use the same email address, you will only receive a PAM account for one parent.
Parents with no email address provided cannot have a PAM account
Will any historic data be lost in this process?
While no data will be lost in this process, it is possible that some information may become disconnected from the new account, such as historic letters, historic excursion permission and historic parent notified absences.
You may have to review your personal details (Medicare number etc) if you previously had split access with another parent to your child's medical information.
You will definitely still be able to access historic student assessment reports and learning area assessment tasks. However, access to historical parent reflections may be lost if the school has chosen to not allow parents to see reflections by other parent accounts attached to that student.
What do I need to do now?
This letter is to simply let you know about the changes that are coming. Right now, the best thing you can do is make sure that the school has your preferred email address on file.

What do I need to do in January?
Be aware that your current PAM account will stop working as of the 16th of January.
Look out for the email later in that week asking you to set up credentials for your new account (this may go to your junk/spam folder).
If you have any queries with the above, please call Karen in the office.
Kind regards,
Karen Williams.
School Christmas concert
Last Thursday night we gathered as community to enjoy entertainment provided by the classes across the school. Congratulations to Kate Snow, our schools Performing Arts Teacher, for producing and coordinating a fabulous Christmas concert. It was a great showcase of student talent and the costumes looked great on the stage. Also thanks to the school staff and community who also supported this event.

Meet the Year 6's: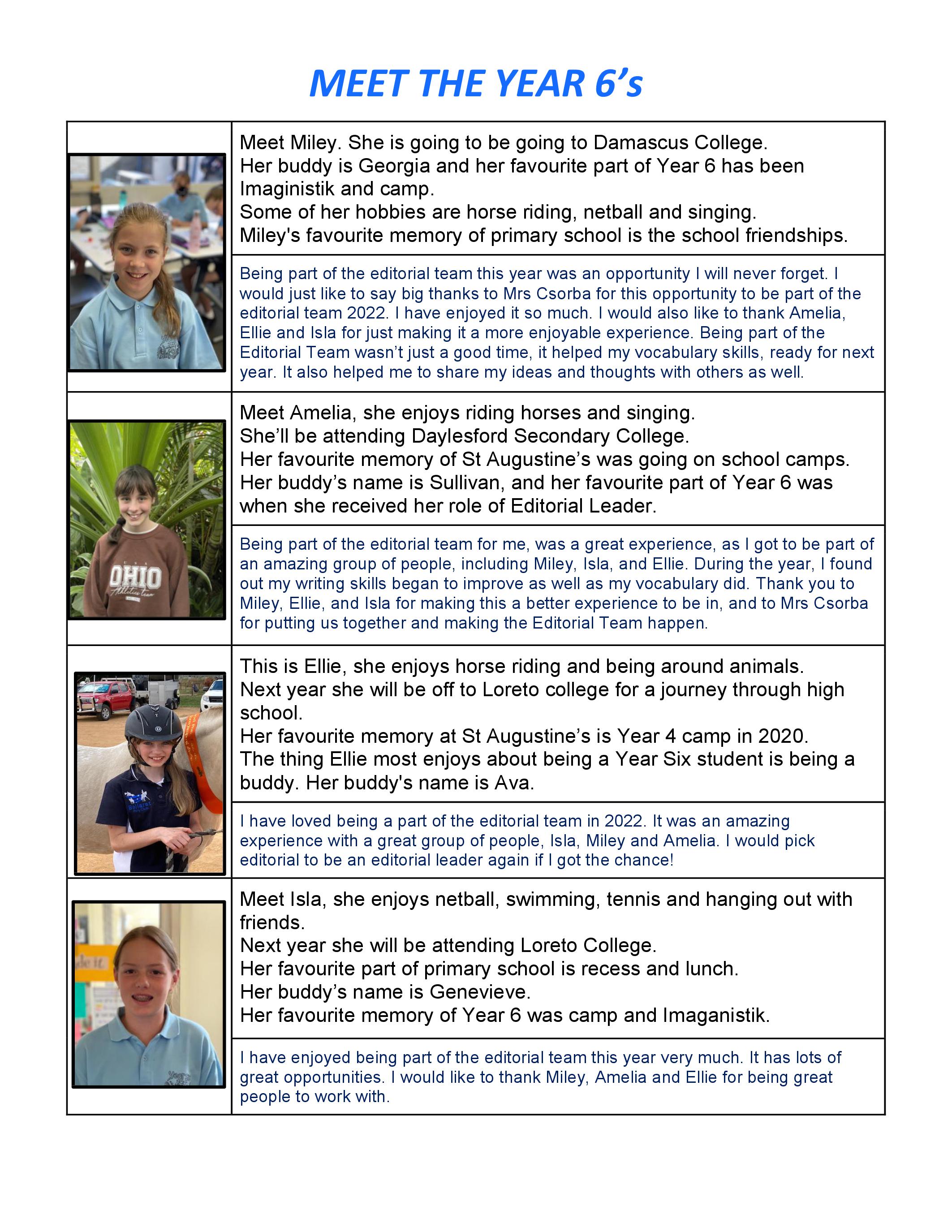 Wellbeing:
Community News:
Basketball Ballarat Junior Miners Holiday Camp
Adroit Insurance & Risk Junior Holiday Camps are held during each school holidays for children aged 5-13 years old of all genders and abilities.
Improve your skills, develop techniques, enhance your game, meet new friends and ultimately have fun! The camp catering for the beginner who has never picked up a basketball to the most experience 13 year old in the land!
All participants can expect:
Meet your favourite Miners players
Expert instructions from professional coaches including Miners player and coaches
Develop new basketball skills and training methods
Fun and inclusive learning environment
Structured session content including great games and prizes at every camp
Learn how to be a great team mate and help other succeed
Registrations for Term 3 Holidays are now open, with the camp being held on Monday January 23rd, Tuesday January 24th and Wednesday January 25th from 9:00am till 3:00pm at Selkirk Stadium.
For more information and to register: Adroit Insurance & Risk Holiday Camps (nbl1.com.au)
For further details please contact Ethan Fiegert via email development@ballaratbasketball.com or for urgent enquiries call reception on (03) 5338 1220