Newsletter: Term 2, Week 1
From the Co-Principals' Desk:
Dear Families,
We hope this newsletter finds you well and that you had a restful and enjoyable Easter break with your loved ones. We are thrilled to welcome everyone back to Term 2 and to continue our journey of learning and growth together.
During the Easter break, we had the opportunity to reflect on the past term's successes and challenges and prepare for the upcoming term. We have exciting plans and activities lined up for our students, and we can't wait to see them thrive in their learning and personal development.
ANZAC Day
As we return to school, we also want to take a moment to acknowledge and reflect on the significance of Anzac Day on April 25th. Anzac Day is a day of remembrance for all Australians and New Zealanders who have served and died in wars, conflicts, and peacekeeping operations. It is a time for us to pay tribute to their bravery and sacrifice and to honor their memory.
In our school, we hosted a commemorative liturgy to acknowledge the significance of this day. We encourage you to discuss the importance of Anzac Day with your children and to take a moment to reflect on the sacrifices made by those who have served our country.
New Buildings
We are excited to share with you the latest news on our school's building project. As we move into the next stage of the project, we are thrilled to introduce a new portable learning space that will bring our Year 5 and 6 students closer to the rest of the school.
We understand that construction projects can sometimes be disruptive, and we appreciate your patience and understanding as we work towards improving our school facilities. The new portable learning space is an important part of our efforts to enhance the learning environment for our students.
The building is still being finalised, and we expect it to be a few weeks before our students can move in. We will keep you updated on the progress, and we appreciate your flexibility in finding alternative drop-off locations and parking during this period.
We are confident that the new portable learning space will provide our Year 5 and 6 students with a comfortable and welcoming environment that promotes learning and growth. The space has been designed with the needs of our students in mind, and we are confident that it will meet all their educational needs.
Athletics Day
We are also thrilled to announce that our annual school athletics day is just around the corner, and the excitement among our students is palpable! Our students have been putting in a lot of hard work, practising for their events and honing their skills. We can't wait to see our families come out to support our students, cheering them on and celebrating their efforts in a positive and encouraging manner. We are confident that our students will do us proud, and we look forward to seeing everyone on the day!
An extra big thank you to Staci for all her efforts behind the scenes putting the day together, anyone who has ever organised an event would have some idea of just how difficult the logistics for a day like this can be.
It has been decided that we will not be completing any formal measuring for the senior events (Years 3-6) on the day, opting to record placements through distance thrown or jumps displayed by numbered cards, we will also be replacing the named cards/stickers with first, second and third ribbons. The purpose of this change is to ensure the day will run smoothly.
In lieu of formal measurement on the day, we will complete this over the start of this term and will be using these results to determine who will be advancing to the district athletics.

We are calling on parents/carer support to help staff run the events for students, please complete the form at the following link https://forms.gle/u81sW4z2ZbacpTof8 if you are able to help in any way.

Lunch will not be provided on the day, students will need to bring their own lunch. Lunch orders will be available to order with the ordering cut-off on Wednesday as per normal processes.
We encourage families to come and support their young people on the day.
Please don't hesitate to contact Staci prior to Friday 5th May if you would like any clarification of anything about this upcoming event.
Kiss & Ride (drive through)
As the new portables have now been installed, the 'Kiss & Ride' drive through used to drop children off to school will cease operation effective immediately. We ask families to continue to park and drop their children off at the back of the school at Church St and at front using Napier Street. Staff will utilise the current Kiss and Ride space in the future as their car parking facility.
Supervision in the morning commences at 8:30 am. Early arrivals must sit on the picnic furniture under the shade sails until supervision commences. Thank you for your support.
School Uniform
As the weather gets cooler, we would like to remind all families that our school has now transitioned to our winter uniform. It is important that we all take pride in our uniform and appearance, as it reflects the values and identity of our school community. Wearing the correct uniform is also a way of showing respect for ourselves, our peers, and the school, and helps to promote a sense of unity and belonging. Thank you for your continued support in making this school one we can all be proud to be a part of.
School Photos
We would like to remind you that school photos are scheduled for next Wednesday 3rd May To ensure that all our students look their best, we kindly request that they come to school in full winter uniform, including jumpers.
Mother's and Special Women Liturgy and Morning Tea
On Friday 12th May, we invite mother's and special women to a liturgy and morning tea. Please refer to the flyer included in this week's newsletter for more details.
Sacramental Program
The next sacrament cycle (Confirmation) commences this Sunday with the presentation of students to the Parish community (enrolment mass) at 9am, with preparation sessions starting this Tuesday at 5:30pm. This is open to students in Years 3,4,5,6 who are baptised Catholic.
Principal Appointment
The process for a selection of a new Principal for St Augustine's is well underway and interviews will take place shortly. Depending on who is appointed to the role and their current obligations there may be a short transition period prior to starting. Once we have more details we will communicate these with the community.
As we begin Term 2, we want to remind you that our school is committed to providing a safe, supportive, and engaging learning environment for all students. We value your feedback and encourage you to reach out to us if you have any questions, concerns, or suggestions.
Thank you for your continued support, and we look forward to a productive and fulfilling Term 2.
Important Dates for Term 2
Confirmation group sessions

X 4 Begin Tuesday 2nd 5:30 in the Hall

(2nd, 9th,16th,23rd)

School Photos

-

Wednesday 3rd May -

students to wear full winter uniform
Athletic's Carnival

- Friday 5th May

Mother's Day Liturgy and morning tea

- Friday 12th May, 9:15am in hall

Year 6 Little Feet Big Footprints - Tuesday, 23rd May
SAC Meeting

Thursday 25th May 3:30

Confirmation Celebration

- Sunday 28th May, 9am

Year 6 Camp

Wed - Fri 7th June - 9th June

Public Holiday

Monday 12th June

Year 5 Camp

Tuesday 13th & Wednesday 14th June

Swimming Program - Whole school -

19th June -23rd June
Kind regards,
Bambi Afford & Shaun Mohr
Co-Principals.
Anzac Day:
Earlier this week, many of our students from F-6 took up the invitation to represent our school in remembering and honouring all who served our country and fought for freedom in the Creswick community Anzac parade and ceremony. Well done to Charlie and Georgie who spoke with poise in front of a large gathering, we are all very proud of you.
The students were exemplary and thank you to Mrs Csorba, Mrs Miller and Miss Jess for supporting the students at this community event. Acknowledgements and thank you to the Courier Newspaper for providing the photo of Charlie laying the wreath and of the students participating in the ceremony respectfully.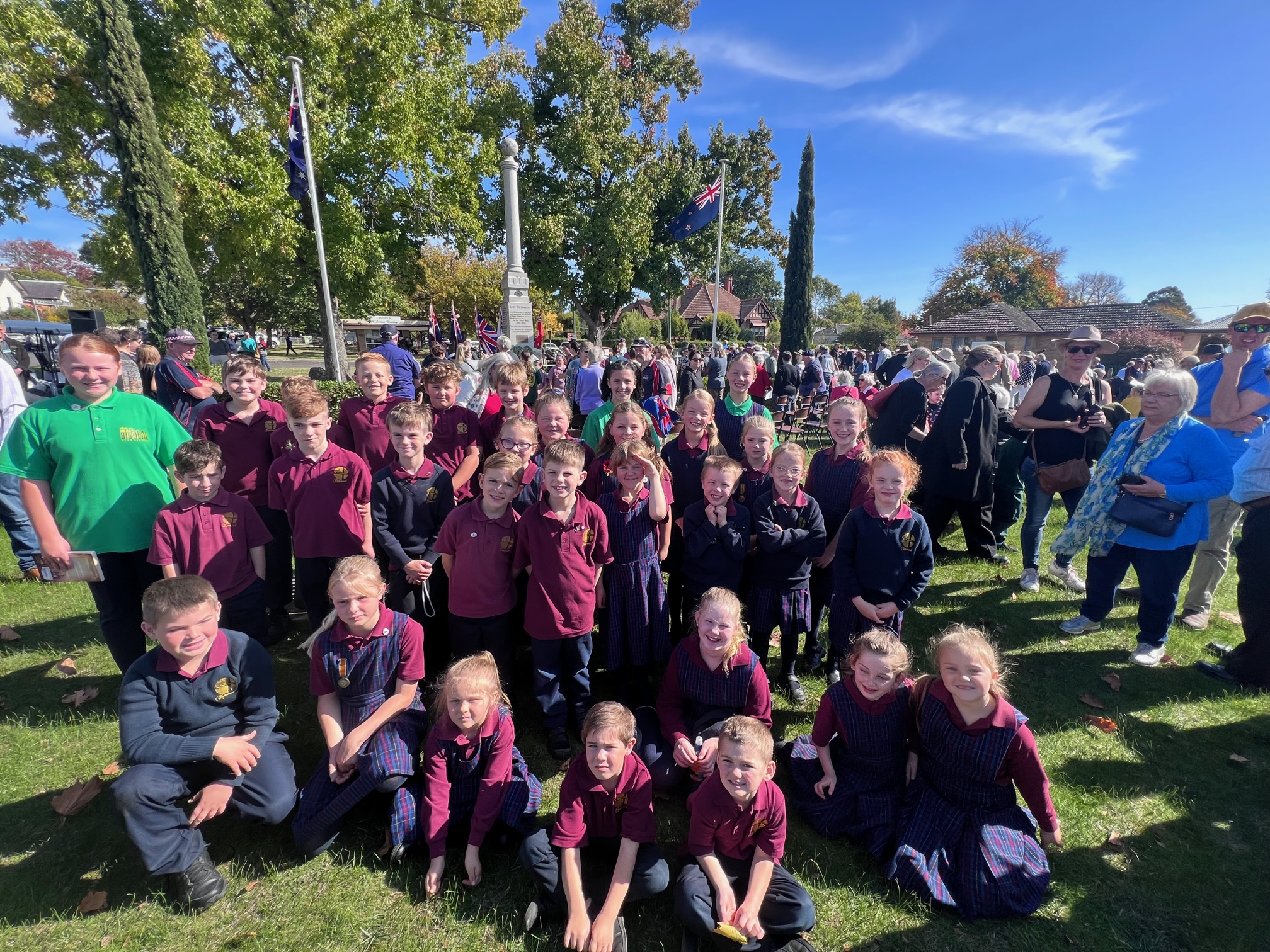 Sacrament of Confirmation:
The next sacrament cycle commences this Sunday with the presentation of students to the Parish community (enrolment mass) with preparation sessions starting on Tuesday.
This is for students in Years 3, 4, 5, 6 who are baptised Catholic.
- Presentation of the candidates to the Parish community: 9.00am Mass Sunday 30th April
- Parent/child preparations sessions 5.30pm, in the hall: Tuesdays 2nd, 9th, 16th, 23rd May
- Celebration of Confirmation on the Feast of Pentecost: 9.00am Mass Sunday 28th May
School Photos:
Please be reminded that next Wednesday, 3rd May there will be school photos, when all students are required to be in full winter uniform.
Mother's Day Liturgy & Morning Tea:
Our Diocesan Community:
Please find below the link for the March 2023 edition of "Our Diocesan Community"
https://www.ballarat.catholic.org.au/wp-content/uploads/2023/04/ODC-March-2023-website.pdf