Term 2, Week 4: Thursday 13th May, 2021
Life Education Van Visit
On Wednesday 19th and Thursday 20th May, the Life Education Mobile Team will be visiting the school. To ensure all are safe, they will not be bringing the van this year, but will conduct their lessons in the school hall. The cost is $10 per student, this fee will be added to school fee statements.
Life Education's comprehensive programs have been specifically designed to assist us in achieving the outcomes of the Victorian Curriculum. Activities are based on the Health and Physical Education outcomes. They are also designed to be integrated into additional curriculum areas, as deemed relevant.
Life Education assists the student to:
acquire age-appropriate knowledge to support informed health choices
develop and practice skills and strategies to act upon individual decisions
recognise the values and attitudes that may influence lifestyle choices and behaviours.
The Units of work to be covered by our classes are:
Year 6 are doing: "Relate, Respect and Connect"
Year 5 are doing: "Relate, Respect and Connect"
Year 4 are doing: "All Systems Go"
Year 3 are doing: "BCyberwise"
Year 2 are doing: "Safety Rules"
Year 1 are doing: "Harold's Friend Ship"
Foundation are doing: "My Body Matters".
If you would like more information, please go to: http://www.lifeeducation.org.au/
Australian Early Development Census
About the AEDC
Each census year teachers use the Australian version of the Early Development Instrument, which is a series of specific questions, using their knowledge and observations of the children in their class. Children do not lose any class time, and parents are not required to provide any additional information to the school.
For the AEDC, your child's data will be combined with data about the other children living within the same community. AEDC results for individual children are not reported, and the AEDC is not used as an individual diagnostic tool. This means that an individual child report is not produced.
What is the AEDC?
The Instrument consists of about 100 questions and collects data relating to five key areas of early childhood development referred to as 'domains'. These include:
Physical health and well being
Social competence
Emotional maturity
Language and cognitive skills (school-based)
Communication skills and general knowledge
Data is collected for individual children and reported for groups of children at a community, state/territory and national level.
Why is the AEDC important?
The AEDC provides a national measure to monitor Australian children's development.
It provides information for schools, communities, and Government to pinpoint the services, resources, and support needed for children and families to help shape Australian children's future and well-being.
The community that children grow up in, the education or care before school, school and other health services they interact with play a key role in supporting optimal development. When schools, communities and governments invest resources during these early years, it brings life-long benefits to children and the whole community.​
With four sets of AEDC national data collected in 2009, 2012, 2015 and 2018, we now have an indication of the national progress towards improving the development of Australian children. With each successive wave of data collected, the AEDC will provide a more comprehensive understanding of the state and progress of early childhood development in Australia.
What the AEDC means for parents
Every three years since 2009, the Australian Government has undertaken a census of all children in their first year of full-time schooling. This information is used to identify communities where families and children may require extra support and help shape Australian children's future and well-being.
The 2021 AEDC will take place in Term 2/3, 2021. You will receive a parent information letter ​before ​data collection commences.
Participation in the AEDC is voluntary. Parents/carers don't need to take any action unless they choose not to include their children in the census.
To find out more about the census and how communities are using the data to help children and families visit the AEDC website: www.aedc.gov.au.
Reconcilation Australia
This year, 2021, marks twenty years since the launch of Reconciliation Australia and almost three decades of the Australian formal reconciliation process.
During this time, support for reconciliation has steadily grown, with a stronger awareness of the complexity and magnitude of First Nations cultures and knowledge. Today, Australians better understand and acknowledge the harsh impact that colonisation has had on First Nations families, communities, and ways of life.
In 2021, reconciliation is more than just raising awareness and knowledge. The theme for this year is "More Than a Word". Reconciliation takes action, urges the reconciliation movement towards braver and more impactful action.
What's on in Ballarat......
An interactive session with Indigenous photographer Professor Wayne Quilliam.
Join an international award-winning Indigenous photographer, Professor Wayne Quilliam, who shares stories and yarns in an interactive and stimulating setting. A mini-exhibition will be on display during the event, and copies of Culture is Life will be available to purchase. Meet at the Ballarat Library 178 Ballarat Doveton Street North Ballarat Central, VIC 3353.
Date and time: Monday 31st May 2021, 6:30 pm – 8:00 pm
City of Ballarat National Reconciliation Week 2021 Flag-raising and Launch
Join us for a flag-raising ceremony at the Sturt Street flag pole (opposite Town Hall, 225 Sturt Street) with a guest speaker to launch National Reconciliation Week. Then let's walk together to the Mining Exchange (12 Lydiard Street North) for morning tea.
Date and time:

Thursday 27th May 2021, 10:30 am
These are just two I chose. To find out what else is happening, google, "2021 national reconciliation week activities Ballarat".
National Simultaneous Storytime (NSS)
National Simultaneous Storytime (NSS) is held annually by the Australian Library and Information Association (ALIA). Every year a picture book, written and illustrated by an Australian author and illustrator, is read simultaneously in libraries, schools, pre-schools, childcare centres, family homes, bookshops and many other places. Its 21st successful year is a colourful, vibrant, fun event that aims to promote the value of reading and literacy, using an Australian children's book that explores age-appropriate themes. It addresses key learning areas of the National Curriculum for Foundation to Year 6.
By facilitating NSS, we aim to:
promote the value of reading and literacy,
promote the value and fun of books,
encourage an Australian writer and publisher,
promote storytime activities in libraries and communities around the country,
and provide opportunities to involve parents, grandparents, the media and others to participate in and enjoy the occasion.
We would generally gather together in the hall to share the story, but the Life Education presenters require the space to present their program. Rather than cancel and rebook one of them, we decided to run both together and ask the teachers to create their areas and complete the activities as a grade level rather than the whole school.
What do we look for in the National Simultaneous Storytime book?
Each year, interested publishers send in possible titles. The criteria for choosing from the books include a positive storyline, appeal to a modern and diverse audience, suitability for read-aloud (language and length), how well the book lends itself to craft and other activities.
"Una dreams of a life in Space. Life on Earth is just so so-so. But how will she get there? And will she complete her mission to discover life in Space? And did she remember to feed Neil the goldfish?"
Written and Illustrated by Philip Bunting.
School Incursion - Wellbeing
We are very excited for the Meerkat Productions to perform at our school on Tuesday 25th May. The performance is an adaptation of Anna Walker's award winning book 'Mr Huff'.
Due to Covid restrictions the hall is currently capped at 120. Therefore, we have had to split the viewing of the performances. The Year 5/6's will watch the first performance and then the Foundation, Year 1, Year 2, Year 3 and Year 4 classes will follow.
We are looking forward to having this performance at St Augustine's this year. It will be a great experience for the children to learn about the themes of resilience and dealing with emotions. Note the cost of this incursion is being covered by the school.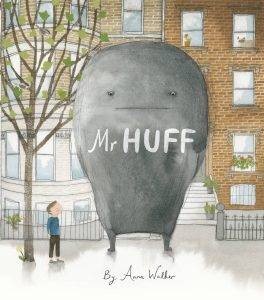 Wellbeing News!
Congratulations to the following students who received the St Augustine's Value Award for Faith!
Foundation: Levi Taylor and Harper Macartney
Year 1: Allie Tippett and Abigail Harris
Year 2: Willow Rowberry and Billy Trafford
Year 3: Tom Pearce and Billy Prendergast
Year 4: Aisha Singh and Declan Ruddy
Year 5: Lexie Coyle, Emelia Coyle, Erika Buehner, Jack Howie, Zahra Winduss, Jayda McCarthy, Sienna Burns, Mac Charleson, Eleanor Fraser, Milla Preston, Miley Signline, Max Clohesy, Roy Martin, Dani Crilly and Alexa Novak.
Year 6: Grace Davis, Dakotah Baker and Amelia Dubberley-McPhan
Estelle McLean - Wellbeing Coordinator.
News from the Art Room
Students in Years 3 & 4 worked really hard in Art during Term 1, completing these amazing collage pictures. The end result is fantastic, well done to the students! Sarah Prendergast - The Arts.
School Photos 2021
Our annual school photos have been taken and are now ready to order. Arthur Reed Photos uses an online ordering system where you can view your photos prior to ordering. On photo day all students received a flyer which includes a code unique to them. You will require this 2021 code to register online and view your photos.
If you have already registered, you will receive an email or SMS from Arthur Reed Photos with a link to view your photos. If you have not yet registered, please go to order.arphotos.com.au and enter your code to complete your order. If you have misplaced your registration code, please contact the Arthur Reed Photos customer service team directly on 5243 4390 or customerservice@arphotos.com.au
** Please note that you will need to register online with your 2021 photo code to gain access to this year's images.
All photo packages are being sent home in 2021, so please ensure that you enter the correct details and nominated shipping address upon checkout. If you require any assistance ordering your photos, please contact Arthur Reed Photos directly on 5243 4390 or email customerservice@arphotos.com.au
Goldfields Cross Country Event
On Friday 30th April, our finest long distance runners from Years 3 – 6 competed in the Goldfields Cross Country event at Clunes Golf club. They all did an amazing job completing the 2km and 3km courses.
We would like to make special mention to those students that made the top 8 for their age group and will be competing tomorrow at the Eureka Division Cross Country:
10 Years and Under: Evelyn Coulter, Adeline Montano, Max Clohesy and Bing Scopel
11 Years: Dani Crilly, Nicholas Quirk & Cohan Montano
12 Years: Abbigail Righetti, Annabella Miller, Fletcher Martin, James Donovan-Clancy and Angus Bullen
Good luck for tomorrow!! Melissa Willey - PE
Thank you to Kris Clohesy and Chris Schepis for the pictures!
Tuck Shop
Thank you to our volunteers for Term 2. If you are free and wish to assist in the Tuck-Shop during term 3, please contact Mandy in the office to advise of a suitable date. The Term 2 Roster is as follows:
14/05/21: Amanda Chammings & Shaun Dossor
21/05/21: Samara Shearer & Emma Montano
28/05/21: Thea Elsworth & Emma Martin
04/06/21: Linda Penhall & Olga Torgovnikova
11/06/21: Shondra Baker & Kristy Tippett
18/06/21: Lana Taylor & Mel McCarthy
25/06/21: Josie Stephens & Brenton Smith
Fighting Fit the Fun Way!
Dates to Note
MAY
Friday 14th: PIRATE DAY! Students are invited to dress up & bring a gold coin donation to raise funds (refer to the flyer below for further information)
Sunday 16th: Dismissal Mass at 8:30 am
Wednesday 19th: Life Education Program/Healthy Harold for junior students
Thursday 20th: Life Education Program/Healthy Harold for senior students
Sunday 23rd: First Celebration of the Sacrament of Confirmation at 8:30 am Mass
Monday 24th to Friday 28th: Catholic Education Week
Monday 24th: Goldfields Athletics Sports Day - Year 3 to 6 selected students only
Tuesday 25th: 'Mr Huff' performance (incursion)
Friday 28th: Terry attending Principal's Network Meeting
Sunday 30th: Second Celebration of the Sacrament of Confirmation at 8:30 am Mass
JUNE
Monday 14th: Public Holiday - Queen's Birthday
Friday 25th: Last day of Term 2