Term 2, Week 10: Thursday 24th June, 2021
From the Principal's Desk
As we approach the end of Term 2 2021, I would like to take the opportunity to thank our highly professional and committed staff. They have demonstrated outstanding skills in adapting and changing to any given situation and yet still keep the focus on ensuring growth and development in the learning journey.
I want to highlight the work of Mandy Simpson, our school Administration Officer, who works tirelessly to keep us all on track and our community informed and supported. Also, a huge thank you to the school leadership members, Chris Schepis and Emma Paterson, for their support and ongoing efforts to steer our school in the right direction.
We have an exceptional community at St Augustine's. Not perfect by any means, but what I do see is a staff and parent group who work together to support our students, but best of all, I see children who are happy to come to school, prepared to learn and who continue to, "aspire not to want more but to be more."
Throughout the year, we continue to provide a comprehensive snapshot of your child's learning through various platforms, including a formal report, learning conversations and Seesaw learning pieces. Through these platforms, we celebrate and reflect on your child's learning strengths and areas of needs.
Early next term, you will have the opportunity to discuss your child's learning in the parent teacher meetings.
The formal Semester 1 Student Reports will be available to view via your PAM accounts, at the end of the school day tomorrow - Friday 26th June. A reminder that students finish at 1:45 pm!!
Reading your Child's Report
Here are some ideas to consider when you read your child's report:
Focus on strengths: Do you look for strengths or weaknesses first? The challenge is to focus on strengths, even if they are not the traditional 3Rs or core subjects.
Take into account your child's effort and attitude to learning: If the report indicates that effort is below standard, then you have something to work on. If your child is putting in the required effort, then you cannot ask any more than that, regardless of the grading.
Broaden your focus away from academic performance to form a picture of your child's progress as a member of a social setting. How your child gets along with their peers will influence his happiness and well-being and give an indicator to his future. Employers highly value the skills of independence and co-operation, so don't dismiss these as unimportant.
Take note of student self-assessment: Children are generally candid and will give a realistic assessment of their progress. They are usually very perceptive so take note of their opinions.
Remaining mindful of our Residents.....
When parking, we ask everyone to please be aware of where and how you park, ensuring you consider the residents that live around our school and their driveways. Residents must be able to enter and leave their properties at all times. Particularly in Little Street, as this it is a very tight street to navigate at the best of times, so when parking here during busy periods, please be mindful of not blocking residents driveways. And if you are asked to move, please do not become agitated, please remain courteous and respectful at all times. Thank you.
Checking in with QR Code
We are now required to provide a QR Code check-in for our school so that contact tracers can very quickly ascertain who has been at our school, if necessary. We have two areas covered: the school building - housing admin, the Foundation to Year 4 students and the School Hall and the Year 5/6 hub. Please note that they have different QR codes, so you will need to check-in twice, if you visit both areas.
The record-keeping requirement applies to all persons attending St Augustine's, including parents, maintenance and delivery workers, etc.
How to check-in
Open your camera app, then hold your phone over the QR code.
Tap the link that pops up.
Enter your details and tap "Check- into this location."
Download the Service Victoria app below:
My phone won't scan. How do I check in?
If your phone doesn't start check-in automatically, download and check in with the Service Victoria app.
Why do I need to check in?
When you check in, you create a record of the time and date you have visited us.
This means that if there is a COVID-19 outbreak, contact tracers can quickly access your contact information and get in touch with you.
Do I need to download anything to check in?
Most people won't need to download anything. You use your smartphone camera.
If your phone doesn't start the check-in process automatically, you must download the Service Victoria app.
Update on Sacrament of Confirmation
We have not as yet been advised of the celebration date for our last group of Confirmation candidates. This will be followed up with the parish coordinator in the first week back next term to lock in a date and as soon as we know the new date, we will advise families of the candiates immediatly.
Casual Clothes Day!
The student body have spoken and requested a casual clothes day for the last day of term. We therefore invite all students to come in casual clothes tomorrow for a gold coin donation. A reminder that students finish at 1:45 pm tomorrow.
End of Term 2
This term has once again not been without its COVID-19 challenges. While we have been required to learn remotely for a short time and postpone many school events, we remain safe and healthy. During the school holiday break, stay safe and well. We look forward to the safe return of all in our community for Term 3 on Monday 12th July.
School Office Closure
As Mandy is taking extra leave at the start of next term, the office will be closed until Tuesday 20th July. Should you require assistance, please speak with Terry.
School Fees
As we reach the half way mark of the school year, it is a timely reminder to families that as at 30th June, it will also be the half way mark for fee payment - meaning half of the initial fees charged at the start of the school year, should be paid by 30th June, 2021. If you do not make regular fee payments (weekly/fortnighly/monthly) we advise that it is an expectation that payments are at least received on a termly basis. All fee statements have been sent out with requests of payment as soon as possible where needed. If you have any queries or concerns regarding school fees, please contact Mandy to discuss.
Sports Jumpers now Available
PSW have contacted us to advise that they now have in stock the school sports jumpers. If you had ordered one, please drop in over the holidays to collect it. Thank you.
Year 5 & 6 Expo
The Year 5 and 6 students have spent Term 2 learning about the people and events that shaped Australia. They were asked to research and present an event in the form of a Diorama. They also researched, wrote and presented a biography about a person who had influenced Australia. The students dressed as their subject to create a moving museum as part of the Expo. No doubt all who visited our expo, were very impressed - well done to the students!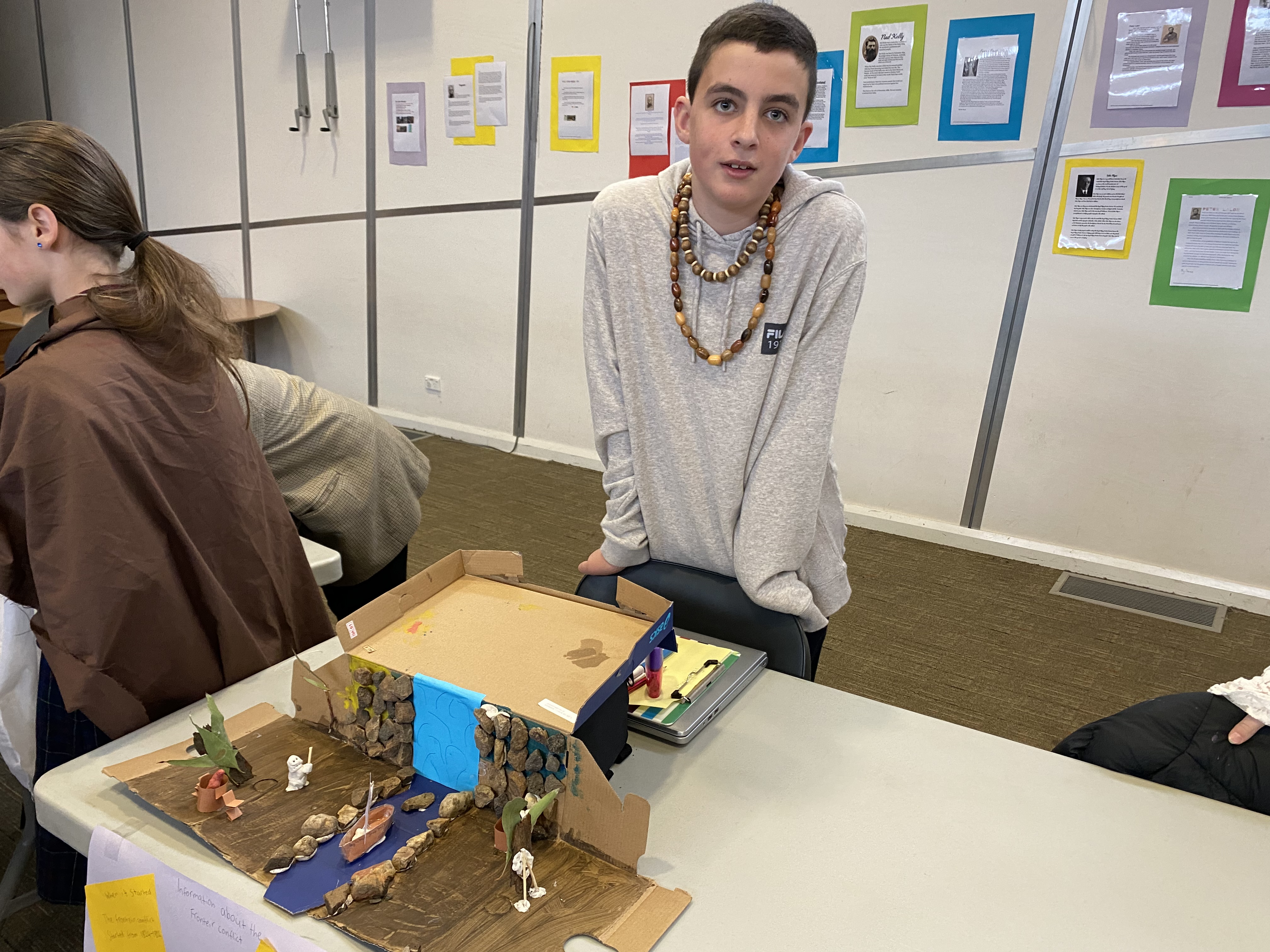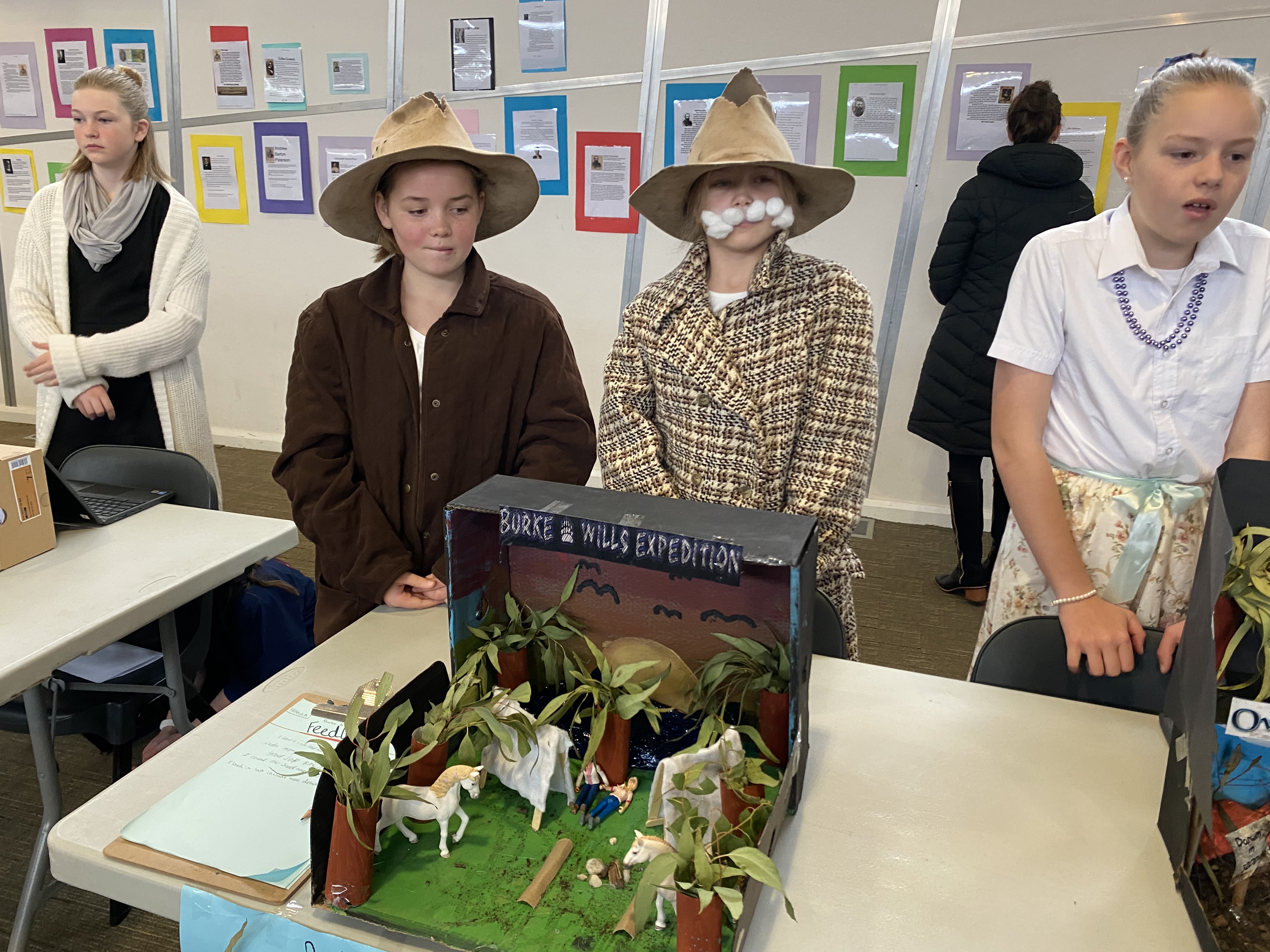 Prev
Showing images
1 - 8
of 17
Next
Tuck Shop
Tomorrow is our last tuck-shop day for term 2 and we thank all our voluteers who have assisted across the first half of the year. We now seek helpers for the term 3 roster, please see below the list of dates we require assistance. We ask volunteers to arrive at 10:45 am, and should be finished within the hour, leaving around 11:45 am. Thank you to those who have already made contact to be added to the roster.
Please email Mandy if you are able to assist during Term 3, ensuring you specify your chosen date - your assistance would be greatly appreciated! msimpson@sacreswick.catholic.edu.au
*** Roster for TOMORROW Friday 25th June: Josie Stephens & Brenton Smith
Term 3 Roster:
16th July: Jac Keating & Shondra Baker
23rd July: Fiona Trounce & HELPER NEEDED PLEASE
30th July: HELPERS NEEDED PLEASE
6th August: HELPERS NEEDED PLEASE
13th August: HELPERS NEEDED PLEASE
20th August: HELPERS NEEDED PLEASE
27th August: HELPERS NEEDED PLEASE
3rd September: Amanda Chamings & Shaun Dossor
10th September: HELPERS NEEDED PLEASE
17th September: HELPERS NEEDED PLEASE
Dates to Note
JUNE
Friday 25th: Last day of Term 2 - Students finish at 1:45 pm
JULY
Monday 12th: Term 3 commences
SEPTEMBER
Friday 3rd: School House Sports Day
Friday 17th: Last day of Term 3
Kelly Sports: June-July Holiday Program
Monday 28th of June to Friday the 9th of July, 2021
Fully supervised, covid-safe, fun-filled days of sports & activities that kids love!
(excluding weekends) - Eastwood Leisure Centre, Ballarat
8am to 5pm each day - Kinder to Year 6, boys & girls
$50 per day ($45 per day for 5+ days)
Enrol online www.kellysports.com.au/greater-ballarat or Contact Dom on 0417 967 621